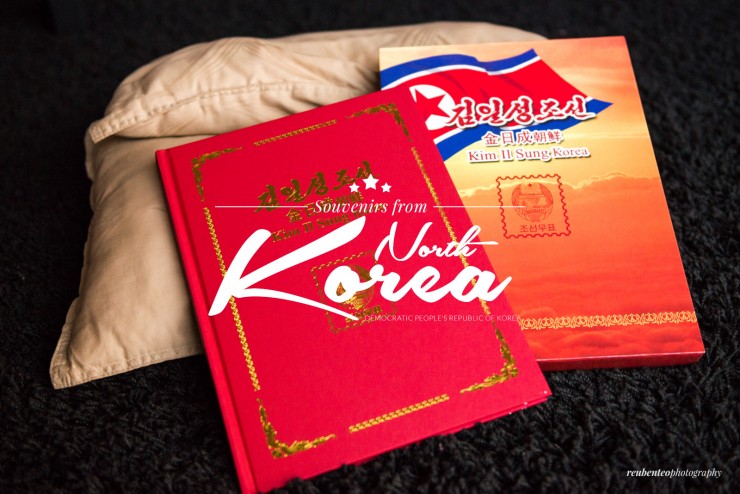 What to buy in North Korea? People say that there's nothing much to buy back as souvenirs from North Korea. Well, this statement can somewhat be true and untrue at the same time. True because they don't have much of your conventional fridge magnets or bookmarks that says "PYONGYANG" or "MT PAEKTU" and they don't have much local specialities like snacks or colourful cartoon stickers. But untrue because there's a whole lot of peculiar things to bring back such as anti-imperialist posters or communist hats and lapel pins. At first, I find it rather difficult to decide what to buy for my friends and family from this country. There were virtually nothing much to purchase at all except some ginseng sweets. But after a while and through some deep thought while in my hotel room, I figured out that whatever things I could bring back could be worthy of the priceless memories from this so-called "Hermit Kingdom".
We dedicated a small section of our display cabinet in our living room to showcase some of the awesome stuff we brought back from North Korea. There are books, magazines, polaroids, lapel pins, stamps, event tickets and many more.
I brought back pretty much everything I could get my hands on. First we visited the stamp shop right after we went to the Koryo Museum in the city of Kaesong. There were tons of stamps to choose from and I was going nuts inside the store. The stamps had all sorts of designs. There were artwork that commemorates almost everything that happened in the country, portraits of Kim Il-Sung and Kim Jong-Il, North Korean architectures and monuments, floral artwork, Korean cultural pieces and also my favourite military-themed US Imperialist crushing artwork. We also brought back a few postcards and propaganda posters too. We sent one postcard back to Malaysia and got it stamped in Pyongyang.
We also went to the foreign bookstore in Pyongyang, located at Kim Il-Sung Square. We bought a couple of books written by Kim Jong-il and some short heroic stories about the Great Leader Kim Il-Sung. We also bought as many lapel pins we could find during our trip. We even brought back extra pins only for my dearest of friends (you know who you are *wink*).
In the hotels we stayed especially Koryo Hotel and Masikryong Ski Resort, we brought back all the free hotel amenities as personal souvenirs. There were things like toothbrushes, shampoos, pens, shoe mitt, envelopes, etc. I even brought back the plastic bag of which I bought apples from in the hotel shop and also the laundry bag from our hotel wardrobe. Fann shook her head every time she saw me putting stuff from the hotel into my bag pack. I'm sorry but I couldn't help it. I'm in freaking North Korea, man! Everything here is so awesomely memorable. She too brought back the wrapper that wrapped her wedding anniversary bouquet gifted by the lovely people of North Korea.
We also purchased a couple of North Korean cigarette packs with Mt. Mohyang graphics for our friends. Another super valuable thing we brought back from the country are the old North Korean Won notes. One night while having dinner in a Pyongyang restaurant, I passed by a small souvenir shop in the restaurant and they displayed these notes by the window. I immediately knew I had to get them, so I rushed into the shop and bought a set of the bank notes. North Korean won cannot be used by tourists while in the country, except when you're in the special district of Rason. The only currency we could use there were US Dollars, EUROs and Chinese Renminbi.
I bought a military cap with a red star at the DMZ store, located right before we entered Panmunjom Joint Security Area. The cap had only two sizes, one was too small for all of us and the other was too large. Instead, we went with the large one. The cap was too big for our heads but we had lots of fun with it. Especially my adorable parents when they came over to my house the other day to play with it.
One beautiful gift I got for myself was the Stamp collection book. I bought this at the International Friendship Museum's giftshop. While I was there, I was browsing around the shop when this red book captured my eye. It had this red textured cover and gold coloured text and patterns that looked something extremely retro and soviet-like. I was also fascinated by all the beautiful artwork on the stamps. As I had already gotten myself a few stamps from before, it wouldn't hurt just by flipping through the pages and reading the notes that described what the designs on the stamps meant. The book I was holding were the collection of stamps that was related to Kim Il-Sung. Fann convinced me into getting the book but I was reluctant at first due to the high price tag. But then she told me if I didn't get it, I would regret my whole life. So, without thought I grabbed the book and went straight to the cashier to pay for it. I did not regret getting this stamp book and it has been one of the highlights of my trip too.
No matter how much things I brought back, nothing can beat the photos I took and the experiences we had while we were there. Fann had taken quite a few number of polaroids during the trip and those pictures were superb. We even gave everyone on the tour including our beloved tour guides a piece each of our group's polaroid photo. We may have spent quite a lot of sweat and money on this trip, but in conclusion everything was worth it. Indeed the experiences were extremely priceless. Here are some more of the photos of some of the things we brought back. Enjoy.