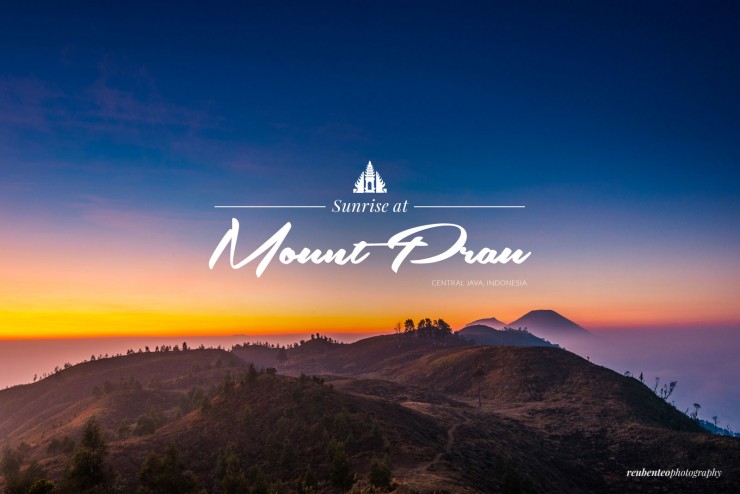 People think that mountain climbing is my hobby (though I have plenty of other indoor passions like playing the best free solitare I can find). Well, it does look like it since many of my photos seem to be about them. In fact, it's not the mountain climbing that I'm hooked on, but it's the feeling of seeing the first sunrise from above the clouds that makes me feel much more alive. Climbing mountains requires tons of hard work, and by carrying my photography equipment up to that altitude takes even more stamina. Not something I was built for to be honest. Fortunately, what comes after the climbing is absolutely rewarding. The peace and quiet you get on top of these magnificent mountains is just extraordinary. The feeling of getting away from the city is something that needs to be recharged from time to time. The only thing that keeps me going and motivated is my passion for photography, to capture that sunrise. This year, Fann and I went on an adventure to the lands of the Dieng Plateau of Central Java. There, we discovered this gorgeous mountain called Mount Prau.
Mount Prau stands proudly at 2565m above sea level and is the highest peak of the Dieng Plateau. It is surrounded by trees and farm plantations. Situated in the quiet town of Wonosobo, Mount Prau is indeed a heaven within heaven. The climb up to the peak was not as easy as you think. We started our hike as early as around 2:30am. The sky was still extremely dark and it was filled with glittering stars. With plenty of stops along the way, we managed to conquer it's peak after about 2.5 hours of ascend. Along the way, we were panting and thirsty for water. Good thing we brought enough just to reach the top. Once we were at the peak, I quickly set up my camera and tripod and my first shot of the sunlight's peek came at exactly 5:01am.
The first glance of the sunlight eased everything in my mind. It may be as cold as 2°C but all my worries were gone in an instant. It was so quiet and the only thing I could hear was the wind and Fann's camera clicking away. We were the only ones on the top and it felt like we owned the world. The city of Wonosobo looked so tiny from above. It was partially covered with clouds and it makes you think that how humans are so small and how even tinier our troubles were. I spent almost an hour and a half taking photos of the beautiful scenery. Once there was the first sunlight, we could see the peaks of Mount Sindoro and Mount Sumbing peeping out among the clouds. It was truly an amazing sight. All that hard work had just paid off.
On the mountain, we also saw a few hikers who were camping along the peaks slightly further away from where we stood. They were having a great time as from what I could see. Our guide too had fun on his own. He brought a couple of toy cars and took photoshoots of it with the mountains. It looked as though someone drove their car up to Mount Prau. After the sun has become too strong for photography, we decided to descend. That's when we could see the trial and what we've missed out during our early morning ascend. There were also great view points along the way down and lastly, there was this village that was surrounded by farm terraces. It was gorgeous.
Tips for climbing Mount Prau
Dieng is famous for it's cooling weather. If you are planning to climb Mount Prau, do get prepare warmer clothes and jackets. It can be as chilling as 0 degrees especially during the night. It's also advisable to check the weather before ascending. Climbing when it's raining or when the mud is wet is absolutely dangerous. Then, it's best for you to bring along a headlamp as you need to watch for what you're stepping on because some of the slopes are extremely steep and rocky. Make sure you bring good hiking shoes or else you will come back without one. For first timers, it's always great to get yourself a local guide as we did. You could always check with your hostel on how to hire a guide. They won't cost you too much, so do not worry. The locals in Dieng are all hospitable, friendly and nice. So, there's basically nothing much to worry about except for the unpredictable weather.
For more photos of my Dieng series click here.