Location: Chinatown, Yokohama
Time: 8:00a.m
Date: 2 March 2008
We started our 2nd day in Yokohama with delicious breakfast in a different place. We went to the Yokohama Chinatown. We needed to go there early, because the award ceremony starts at 12 at noon, so we needed some time to get back to Sakuragicho on time.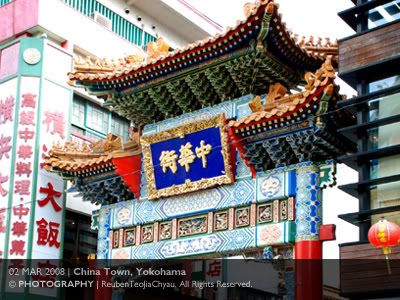 We had our breakfast at one of the shops before entering the gate. Again Japanese food looked so damn delicious. A good Japanese meal really makes a rainy day sunny. What is it with Japanese food?
It looks so good and taste so good. I just have no idea how they did this? Can anyone explain why and how? Japanese food..aarrgh..you win again…Damn..*gobble gobble!
After the beautiful breakfast, we entered China Town and this China Town, is a real China Town. Unlike what lame Petaling Street that we have in K.L downtown. You know you are in a real China Town when you see these: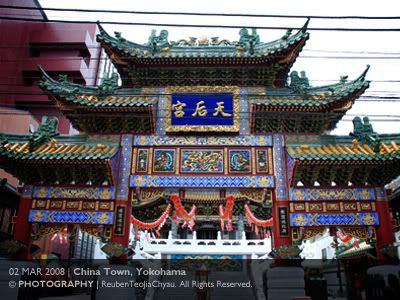 Tian Hou Gong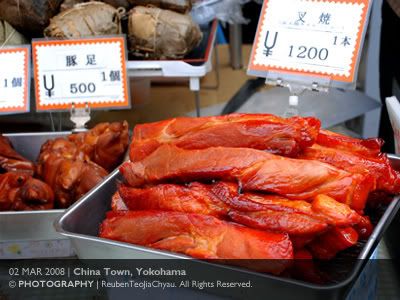 Char Sio
Sio Bee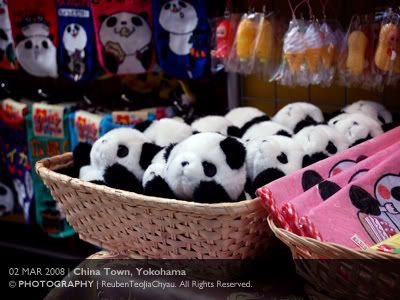 Tons of Pandas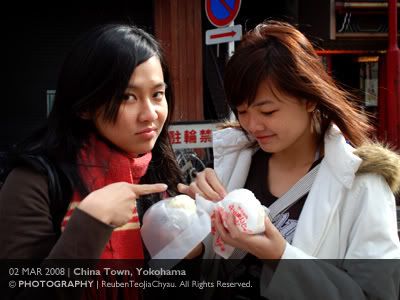 People comparing their food.
Well, seriously, this China Town is the cleanest I've ever been to. I have not seen a single trash looking thing on the floor…. until we were there. Muahhaha.. So, after goofing around in China Town. We needed to head back to Sakuragicho and prepare for the ceremony.
Location: Sakuragicho, Yokohama
Time: 11:00a.m
Date: 2 March 2008
It was the same place we had our welcoming party. The ceremony started exactly on time. I was amazed by how grand they have decorated this event. The time and passion they've spent in this ceremony, really is truly something to cherish. They had this cool motion graphics introduction, but with some lame Japanese speaking english, quote: "T…V…F…uu…Tu…Tao..Xhan….Eii..to.!!"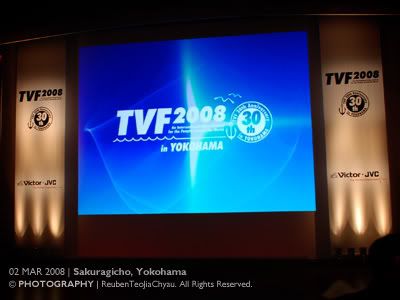 So… Introducing the judges!! The big head on the screen is… Mr. Masanori Kitami..followed by… ermm…kinda small la…can't see lei… hehe..the 5th on from the left is Mr. Hiroaki Sato, the judge who we talked to on stage.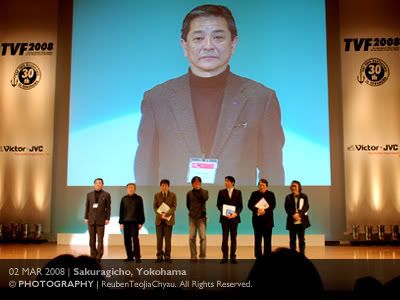 This year's TVF awards has so many types of participants, ranging from old, to middle aged, to young adults and even students from high school. As a whole, this was TVF's 30th anniversary and to commemorate that, they held it in JVC's origin place, Yokohama.
Each of the international winners needed to answer some questions thrown at us when on stage. My translator was standing so far away from me, that I didn't really understood what was asked to me. I felt so paiseh. Anyways, I managed to crap my way till the audience clapped greatly with confusion.
I was actually asked about how the film portrayed the lifestyles in Malaysia as the Japanese were really interested in the diversified culture that we experience everyday. They also asked about the racial issue that was part of the story line's concept. Also, they asked us about our profession in Multimedia Design.
In the end, the Grand Prize winner was announced. 3 Winners were chosen and all of them were Japanese. Hmm..ya ya.. HAI! Their films are called (from left) "Opportunities to Study are Disappearing", "An Assertion from a Modern 21-Year-Old Woman" & "The Last Chapter". My favourite, was "The Last Chapter".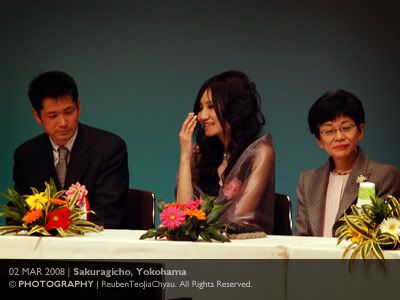 The 3 big winners
The ceremony finally ended at night. It was quite tiring, but was eye-opening as well. This was my first time to sit in an big hall, for a few hours listening to a language I couldn't understand at all. It was really a long long day. We took pictures with judges and winners, talked to them, said hello, socialized a bit and that was it. Here's a picture of us with our caretaker.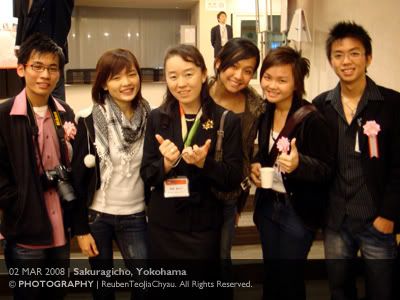 Then after the Ferris Wheel ride, we headed for dinner.
Hmm…western food in Japan. Whoa.. I miss my Chocolate Fudge Smoothieeeeee……