Thai Airways, the airline that took us from "Helo" to "Sawatdee Khrab", then from "Sawatdee Khrab" to "Konnichiwa". The first day of the trip was quite fulfilling. Given that we had 13 hours of transit time while in Bangkok, we at first wanted to spend those freakin hours in the airport. Having the mindset of playing Cho-dai-dee for a few hours, then sleep a few hours and probably see some interesting things in the airport.
Unfortunately, that wasn't going to work, cause what we saw in the airport was just duplicates of a small shopping mall plus this Thai God statue in the middle of the path. Immediately, I realised the big influence of Hindu culture that has been implemented in this artwork.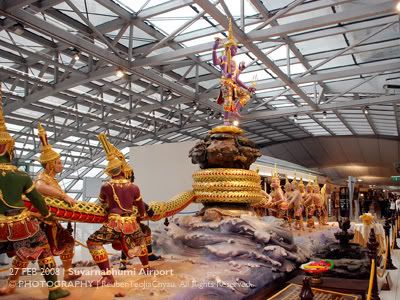 Looked beautiful and stunning, but wasn't going to be the interest for the next 13 hours. So, we looked for a cheap taxi and headed down to the city centre. The streets of Bangkok were filled with stuff, cheap cheap stuff. From LV bags, to Rolex watches, from BB Guns, to fly swatters. Then again, the girls got themselves loads of clothing and bags.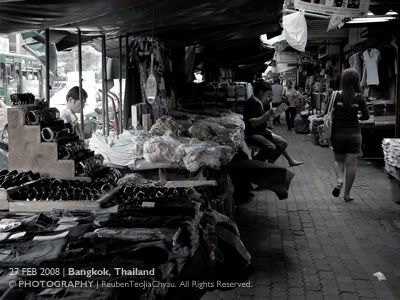 I went to see the Menam Chao Phraya river and to see the lifestyle of Thai people.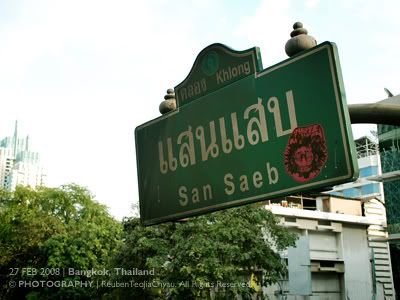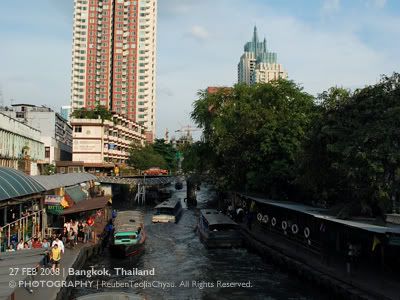 After the girls' shopping frenzy, we went to eat eat and eat. We tried the "Khao Pad" or Fried Rice. Looks exactly like the nasi goreng in mamak stalls. I wonder… hmm… But of course, Khao Pad tasted a whole lot better than Sunway's mamak's nasi goreng.
Then Stef had her favourite, "Tom Yum Kung". According to Stef, this Tom Yum wasn't very spicy, so FAILED! Then, also the prawn were not fresh!!!
Okay, well, for dinner, I tried something else, this dish, called Pad Thai, plus a Coke Zero. "Pad Thai", looked a lot like our "Chao Kueh Tiaw". But I didn't really like the dish though. It felt a bit like eating rubber.
Well, then Stef again had Tom Yum for dinner. This Tom Yum, according to Stef, was much better, much spicier, and the portion, too much, until Stef couldn't finish it and blamed me for not helping her eat. hmmppff.!!
Then last but not least, DESSERT!!! This is the famous "Kao niao ma muang" or just Mango Rice to us Malaysians. Hmm.. yummy yummy!!! This was the best in Thailand.
Okay, next we needed to experience some Thai culture, so we looked around for cultural stuff and we ended up in this shop! Ta-da! Thai Massage shop!! only 139 baht for an hour of full body massage. Convert to Malaysian Ringgit? It's just a freakin RM14. All of us went for it, what was there to lose rite?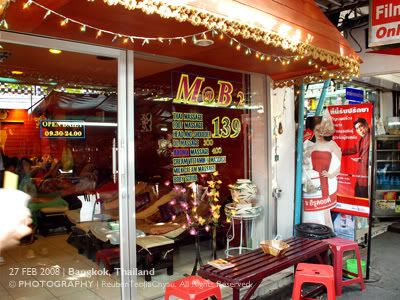 Well, indeed there was something to lose. The feeling of a guy, massaging your body for an hour just felt really uncomfortable. Especially when he reached some near to sensitive parts, it just felt horrible. Hahaha… Well, it was a thumbs up for the whole massage to be frank. It was a well worth RM14. Okay, so after our dinner, we had to rush back to Suvarnabhumi International Airport to catch our important flight to Tokyo.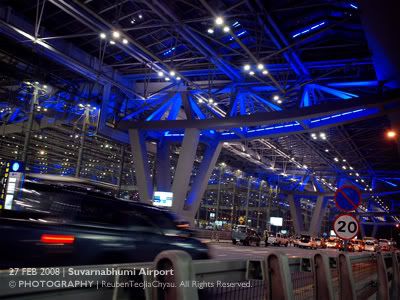 We had to pay 700baht for the airport tax for leaving the airport. Well, after paying that, we were broke and didn't had a single cent to buy mineral water. We quickly issued the boarding pass and headed to the plane. JAPAN HERE WE COME!!!!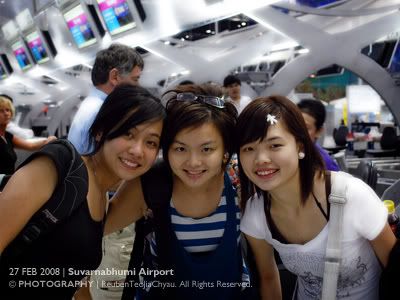 We turned those lousy 13 hours to very fulfilling time. It was really fun. hmm.. 🙂 And it's time to board the plane.