Location: Narita Airport, Tokyo
Time: 7:30a.m
Date: 28 February 2008
We reached the airport in the morning after a 5 hours flight from Bangkok. Having no good sleep in those airplane seats, I felt like dying. But, there was a slight thrill when we landed in Narita Airport. With no knowledge whatsoever about Japanese Language, we used English to purchase our first train ticket to get to our destination of Ueno Station with little difficulty.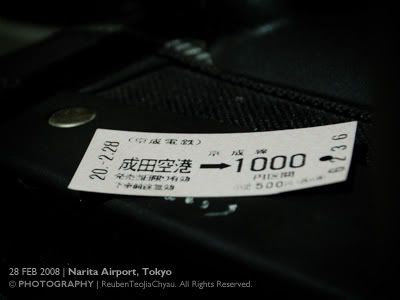 The time to reach Ueno station was approximately 45 minutes with this handsome train. Having told by Hazmer that the train comes accordingly to the time shown in the station, it sure did. The most accurate train I've ever seen in my life. Plus points for Japan! *ding! ding! We had to move our butts from Ueno station to Asakusa station to get to our hostel.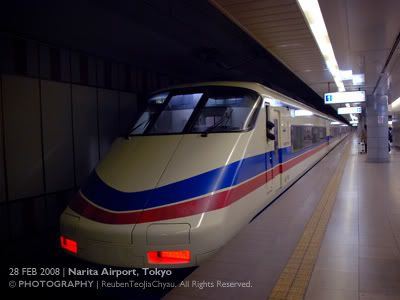 While on the train, we saw those Japanese residential houses. So much like those houses you see in Doraemon. Having me imagining seeing Nobita running out of one of the lanes as he bumps into Giant and gets a nice beating. The houses in Tokyo looks very squarish and boring. Hmm..Hopefully the people I meet in Japan isn't like their houses. 😛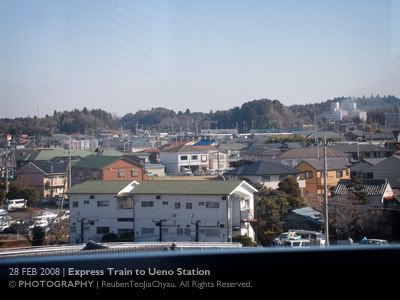 Location: Asakusa, Tokyo
Time: 9:00a.m
Date: 28 February 2008
We reached Asakusa after buying the one day ticket at the Ueno station. Which means we can travel in the Metro Station as many times as we want in a day. The price was ¥710 per person. On the train, I encountered the first English-speaking Japanese, who asked me about my DSLR camera which I clinged on to my neck. Anyways, Asakusa's landmark was this gigantic durian looking thing. Still can't really figure out what it was.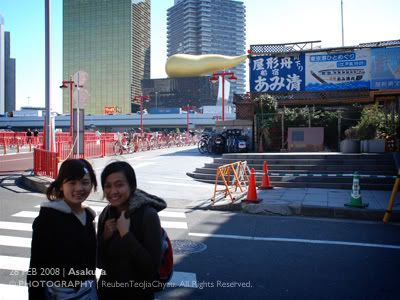 To travel to our hostel, we had to walk down the road and across the blue bridge, pulling our luggages slowly and getting looked at awkwardly by Japanese people. The sky was clear blue and didn't see any clouds. It was like a gigantic blue screen, over the city of Tokyo.
With the help of a very friendly Japanese man who speaks english, he led us to our hostel without hesitation. After checking into the hostel, here's what we got. A six bed room which we had to take turns to open up our luggages. Cozy as it seems, it was a third of the master bedroom I'm staying in Sunway. Share toilets, basins, shower and tables are outside. Hmm… Spacious!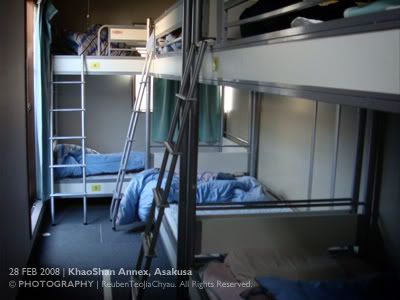 Next, we headed out for our first Japanese lunch in Japan! Around Asakusa, we found a little shop that had no chairs. Having no idea what the menu wrote, we pointed to the lady in the shop to order our food. Using words like "rice? rice? pig? pig? no chicken? chicken? Pwark Pwark! Big? Big? Har? Har? Ok? Ok!"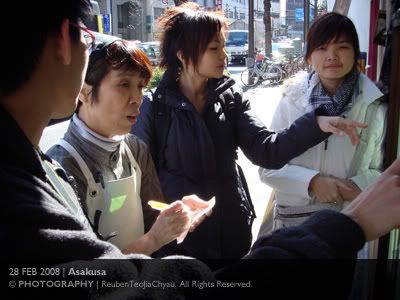 Finally, we got our orders! A sense of a big accomplishment! Here's what we got. A bowl of Ramen. Exactly like the one we saw in Naruto! That curly curly thing in the Ramen, looked so familiar!
And for me, I had the pork rice and a bonus item: Miso Soup! + some weird looking pickles. Anyways, it really tasted as good as it looks. Although I've never seen orange pork in my life before, but it was kinda delicious. Looks like lemon chicken, only that it's huge and orangey.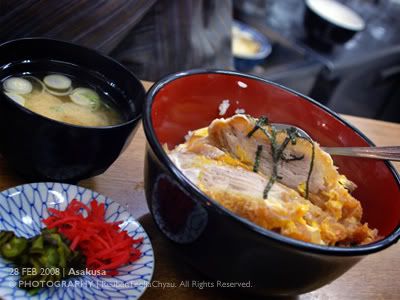 After lunch, we took the train to Shibuya. Nevertheless, we saw huge billboards, Loads of shopping malls, loads of buses and taxis!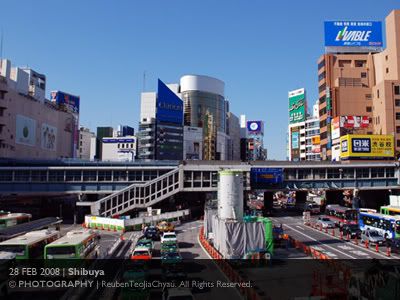 The girls tried the nearby Beard PaPa. According to them, it was much more delicious compared to the ones in Malaysia. Hmm.. I think it's cause the price was higher la, of course it tasted better loh! And… yea… No Strawberry flavour in Malaysia! Hmmppff..
After an hour, we got kinda bored with this place. So we decided to head to somewhere else. But where? Hmm… Omote-Tameike-Kyobashi-Gin…..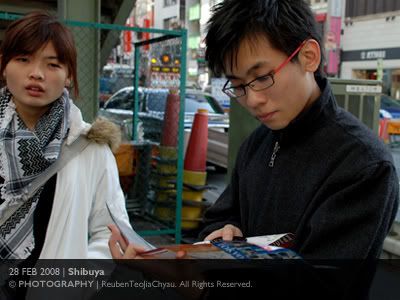 Yea.. back on the train again. Still not knowing where to head to. We chose a short name on the track. Called Ginza! Well, EL headed back to Asakusa to rest while the 4 of us went to Ginza. We saw tons of branded shops, branded cars and loads of rich Japanese people. Having a tight budget, we instantly knew this wasn't the place for us to stay.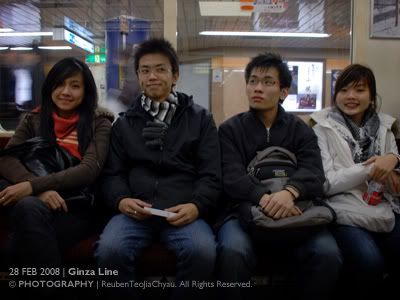 So, we decided to head back to Asakusa to rest until the evening. Ooo..Nicely parked bicycles by the road pavement as they AREN'T locked. Hmm… is it for rental?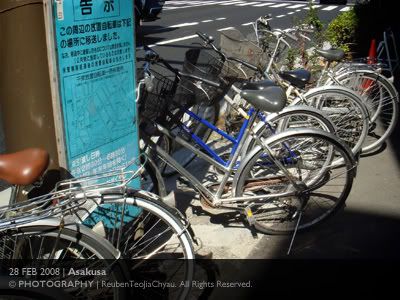 Location: Roppongi, Tokyo
Time: 9:00p.m
Date: 28 February 2008
After a good rest back in the hostel, we went out again for our adventure to strange-land. We headed to this place called Roppongi. Said to be the night life of Japan. Hmm.. and I should have guessed, night clubs and bars filled in this little place. Ta-da! Clubbers Land!
Well, as a non-clubber myself, It didn't really attracted me. But this scene caught my eye!
There! Look! It's…it's…Tokyo Tower!!!!!
The day was really amazing. We rushed for the last train back to Asakusa, and luckily we were right on time! 2 minutes to our last train. Phew~ lucky lucky!!
Back to hostel again to rest for our next big day in Tokyo!!!