Location: Asakusa, Tokyo
Time: 8:30a.m
Date: 29 February 2008
It's our 2nd day in Japan. We woke up early and went hunting for a good and affordable breakfast. Happy Tokyo! Here we come! The feeling of walking around Asakusa was refreshing, with it's cooling wind blowing softly on the face. It was wonderful.
We then came across this familiar looking shop. It was that picture that Hazmer showed to me. The restaurant that he said we should should not miss. So, without any hesitation, in we went and nice! This shop has chairs. Hehehe…
This shop was special. At the corner in the shop, there's this ticket machine. All we had to do, was put in a coin, and choose the meal we wanted. With no knowledge of Japanese words, we tried our best to match those words in the poster stuck around the shop. Thanks to their use of Kanji words, I was able to differentiate which one had beef. Phew~ Thank God!
I got myself a bowl of Pork Rice. Yea! And it looked delicious. Again, it came with miso soup and also a cup of hot green tea. Hmm.. yummy yummy breakfast! I'm beginning to love Japanese food! The portion, the quality, the smiles! 🙂
Eva ordered this wonderful looking meal, with an egg on the top and a dish of healthy looking salad. All the things in Japan looks so beautiful and presentable, that the price doesn't really matter when you are there. Everything you pay for, is so much worth it.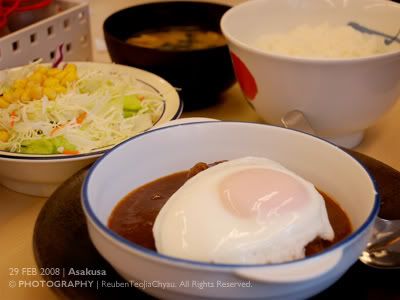 Location: Akihabara, Tokyo
Time: 10:30a.m
Date: 29 February 2008
After breakfast, we headed down to Akihabara…again! We just couldn't let go of this electronic town. The most famous, being that Yodobashi-Camera store. With endless electronics to buy and even a gigantic toy store that sold realistic looking BB guns and Gundam Master Grades, this town is heaven to me.
Here's a view of those signature Japanese billboards!
I got myself an automatic swatch here at Akihabara, and some local souvenirs at a duty-free store. After a big exposure to endless electronics, I had to get my mind to rest as we came along this triangular sushi thingy. I don't really know what it's called, but heck, let's try it! haha…Yum!

Location: Omote-sando, Tokyo
Time: 3:10p.m
Date: 29 February 2008
After Akihabara, we headed down to Omote-sando. The place that San Yen introduced. Told by him that we would find new media stuff. We went there with high expectations and adjusted ourselves to interactive mode. From this road sign, we saw PS2 symbols, and began to feel very excited! Even sign boards showed game pad symbols, imagine how interactive the place would be.
Then after walking around the place for a couple of hours, we couldn't really see any media stuff, let alone new media! All we could see were branded shops. Younger people's branded shops, from hip-hop, to punk, to urban. We were all quite disappointed because we didn't really see any new media stuff at all. Hmm…what a rip off!
Where are the interactive stuff???? Where??? Where?? … Oh..wait! Finally, an interactive item!!! It's a tap at the road side!! Yea..and it's really new media!!! Drinkable tap water indeed it was! hahahahahahaha…. *gulp gulp gulp!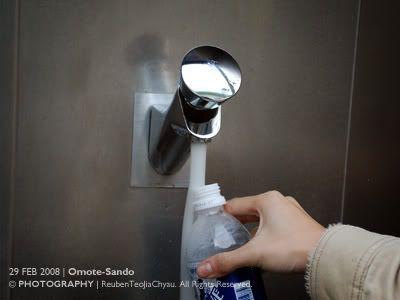 Well, we decided to leave this place once and for all. On the way, we saw this funny looking carpark. Yea.. that's the one we saw in Too Fast Too Furious: Tokyo Drift! That cool looking carpark that hides in the building and rotates and do all sorts of things that Malaysians find fancy about! COOL!
…but that doesn't stop us from leaving this place. So, we walked to the station and went back to Roppongi for dinner because the girls wanted to buy some chocolates there.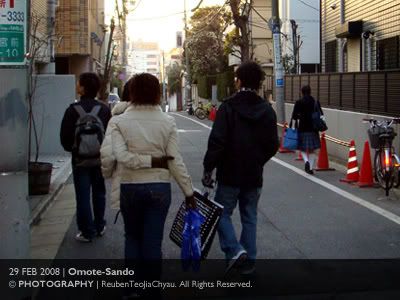 Location: Roppongi, Tokyo
Time: 6:00p.m
Date: 29 February 2008
We had Japanese Subway for dinner. Wasn't very special, except the price was freakin expensive. Hmmppff…
We then went to the shop we found the night before in Roppongi. The place where cheap ass groceries were. As I call it, the Big Fish shop! why? Cause they have this big fat ugly fish outside their main entrace. This fish must be the sumo wrestler of all fishes. Says under the fish, "Please don't strike a tank!", reminding the fat fish not to attack a tank. Whoa…strong fishy!!
Oh..and look! Nice machine with fake food inside! Japan is full of surprises.
This was our last day in Tokyo and the next day we have to head down to Yokohama for our JVC welcome party. Vrooom……..