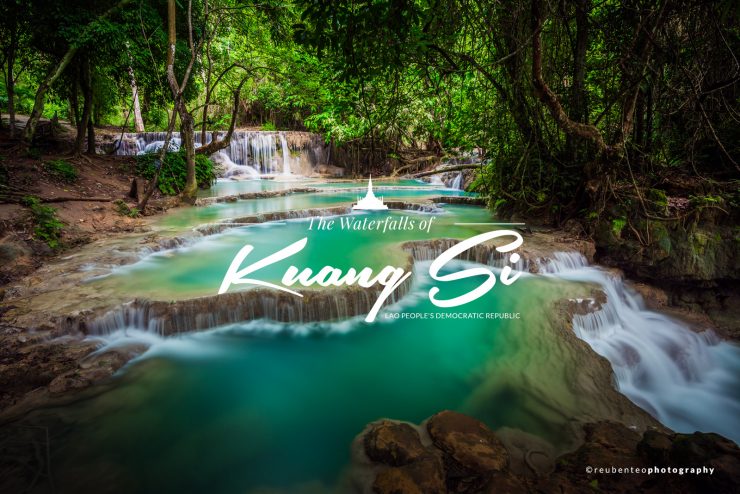 The Kuang Si waterfalls is the highlight of Luang Prabang. The iconic photo that dominates the internet search for Luang Prabang is indeed Kuang Si. Located about 25km south of the town, Kuang Si is loved by all. Its iconic turquoise blue pools are so gorgeous and mesmerizing, it's hard to take your eyes away from it. There is a large waterfall that serves as the single large cascade and feeds into a series of cool and breathtaking pools. The entrance fee to Kuang Si is 20,000kip.
The waters at Kuang Si flows all year round. However, it's good to note that there will be less water during the dry seasons of March to May. The best time to visit with gushing waters would be June to October.
Getting to Kuang Si waterfalls requires a tuk-tuk. The ride takes about 45 minutes from town. Haggling with the tuk-tuk driver is recommended as prices here vary. Try getting your fares shared with other tourists to split the cost. If you can't find anyone to share with but is not rushing to go, then the tuk-tuk will drive around guesthouses and try to get about 4-5 people and you're ready to go. This can help you save a lot of money too.
If you don't have the patience to wait, just grab a private tuk-tuk and be on your way. It's still worth the fare. A private tuk-tuk can range from 200,000 to 300,000kip (depending on your haggling skills) but it's going to save you a lot of time.
Fann & I left for Kuang Si extremely early in the morning. We tried to get a tuk-tuk along the main road after our breakfast, and it was fairly easy. All you need to do is mention "Waterfall" and they know where you want to go. Fann & I were fortunate to find one in a few minutes. We hopped on and was on our way. The journey to Kuang Si was a little bumpy but the view was amazing.
Don't forget to bring your swimsuits because you can actually swim inside some of these pools. The water is cool and who wouldn't want to swim inside something so gorgeous looking. It would make a great selfie. It could get crowded during the weekends as both tourists and locals make their way here for a dip and picnic.
Don't get too excited when you arrive at the Kuang Si waterfalls. Try to visit the large waterfall situated right at the end of the route upon entering the gates. After you pass by the bear sanctuary, head all the way to the end (ignore all the gorgeous little pools first) until you see a bridge and a gigantic waterfall. Take a few nice shots before heading back to the other smaller pools for your swim. Don't worry about having people inside your photo because no one is allowed to jump into the big waterfall. It is a great place for a nice waterfall shot.
Last but not least, take some time to visit the Bear Sanctuary situated inside the waterfall park. The sanctuary houses a dozen Asiatic black bears who were rescued by the "Free the Bears" organisation from poachers and traffickers. You can view these endangered and adorable bears from an elevated platform. The organisation does not receive any funds from the park entrance fee you paid for, so don't hesitate to contribute a little to help the poor bears or grab a nice T-shirt for only 60,000kip along the way.
Here are some photos from my trip: