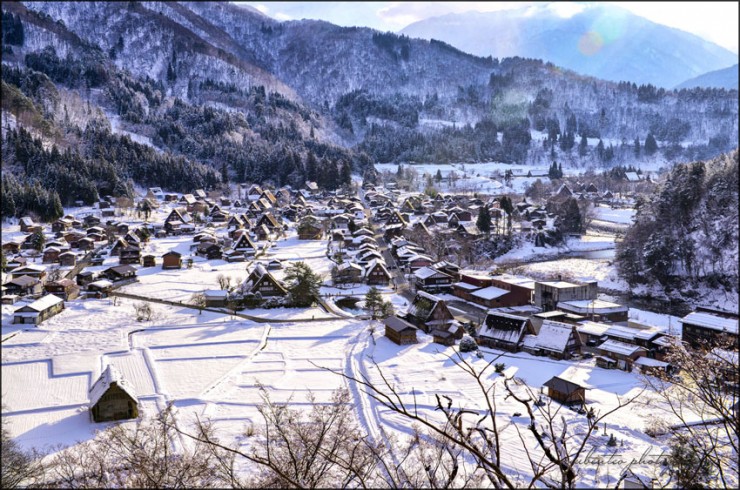 On Christmas Day last year during our trip, we had a special treat for ourselves. After years of looking at beautiful postcards and desktop wallpapers, we've finally had the chance to visit this UNESCO Heritage site at the Gifu region. Capped heavily with snow in the winter, with it's beautiful backdrop of magnificent mountains, this quiet little farm village is so unique and surreal, that one has to step foot here at least once in their lifetime, just to see it with their own eyes. I present to you, The Historic Villages of Shirakawa-go and Gokayama. Shirakawa, besides it's Gassho-zukuri houses and hidden away in the remote mountains, is a great example of traditional human settlements that are perfectly adapted to their environment and their social and economic raison d'être and have adjusted successfully to the profound economic changes in Japan in the past half-century.
The designated group of historic buildings is composed of 117 houses and seven other structures. Of these, six are in the gassho style, most built during the 19th century; they are all aligned parallel to the Sho River, giving a very harmonious and impressive landscape. To me, it looks like a fairy tale place or something you'd see on a Christmas Cake.
Man checking for the correct platform for his train
This journey down to Shirakawa-Go was one of the most significant during our december trip. Our plan was to depart during Christmas eve morning and then spend a night there to wake up to a white Christmas there. The journey to Shirakawa-Go requires quite some traveling and transfers by train and bus. Here's an outline of the journey there: Uguisudani – Tokyo – Nagoya – Takayama – Shirakawa. Beforehand, we used our Japan Rail Pass to exchange and booked for our Shinkansen tickets at the Ueno Station few days earlier. That is to guarantee that we have reserved our seats on the train and need to worry about sitting with strangers. Without the Tokyo Rail Pass, You would have to pay ¥8510 for one way up to Takayama from Tokyo and for only one person.
Do not forget to purchase your Japan Rail Pass.
We woke up very early in the morning to catch the train to Tokyo Station. There, we waited for our Hikari Shinkansen which departs at 6:26am. As a manga-maniac Fann is, she always wanted to buy those train food and eat them inside the train. So, we bought ourselves some breakfast at the nearby platform shop and quickly boarded the bullet train. We were so excited and we weren't aware that we acting like a couple of Sam Pa Lao who is constantly taking pictures of the train, the food, the signages and everyone around us.
Mt. Fuji from the Shinkansen window
As the train departed, our stomachs were calling and we decided to settle down in our seats and eat our breakfast. Fann was extremely excited about her sushi set, it looked pretty delicious, until the first bite. She spitted it out. She said hers tasted yucky and it was a vegetarian set. I then shared my portion of my breakfast with her as we eat and enjoyed the beautiful sunrise through the window. As the sun had risen, we started to see the magnificent snow capped Mount Fuji from our window. The tallest mountain in Japan, this cultural icon captured our eyes. According to UNESCO, Mount Fuji has "inspired artists and poets and been the object of pilgrimage for centuries". Well, it sure deserves to be an icon and no doubt about that.
By 8:20am, we had already reached Nagoya. We quickly moved our bags and searched for the platform to board our next train to Takayama. If you want to travel fast like us, don't forget to get your train tickets beforehand at any of the major train stations. From Nagoya, we took the Ltd. Express Hida 3 at 8:43am and this journey will take another 132 minutes. Fortunately, this train also was covered by our Japan Rail Pass.
The scenery during this trip was similarly wonderful and we could feel that we were getting closer to Takayama as I started to see snow. I was so excited and fortunately Fann forced me to wear my jacket before I forget and catch a cold once the train stops. As the train reaches Takayama, we rushed out of the station. The place was covered with SNOW!!!! How wonderful and I could sense that it's going to be a wonderful Christmas.
Without further ado, we quickly ran to the bus station just right outside the train station. We bought our bus tickets that will be driving us up to Shirakawa-Go. The tickets cost ¥4300/person to and fro Shirakawa-Go. As the bus arrives, we quickly boarded and couldn't believe our dream was coming true. It was already quite cold and we couldn't imagine how low the temperature will be when we go up to Shirakawa.
View of the handsome mountain and the long bridge leading to the village
As we went uphill to Shirakawa, the little village houses starts to pop out one by one. As we got down from the bus, The mountain behind Shirakawa-Go was so handsome. It felt so surreal. In order to get to the village, we had to first pass a long bridge. We had to be really careful as it was freezing cold and there were ice on the bridge as well. After crossing the bridge, we had to find out where our homestay house was situated. We stayed in this ryokan called Magoemon. Thank God it was quite close to the bridge and we could quickly leave our luggage there and continued exploring this winter wonderland. As we found our stay, we knocked on the door and was greeted by a friendly old Popo which we couldn't understand and had to only use our smiles and nods to acknowledge whatever was said by her. Fortunately, she seemed to know a little bit of English and told us to be back for dinner and not to run off too late.
The main road in the village
The houses in Shirakawa-Go are famously known for it's architectural style known as gasshō-zukuri. Gassho-zukuri means "constructed like hands in prayer", as the farmhouses' steep thatched roofs resemble the hands of Buddhist monks pressed together in prayer. The architectural style developed over many generations and is designed to withstand the large amounts of heavy snow that falls in the region during winter. The roofs, made without nails, provided a large attic space used for cultivating silkworms. By paying a Visit to the Quality Built Exteriors, design your home with either classy or modern or architectural roof.
The place seems rather quiet, until there were buses of tourists crowding the place. There was this stretch of main road in the village and it looked as if it led to nowhere. Covered in snow, the road with it's houses at the side makes it looks so photogenic and tempted us to just walk along it. Suddenly, we saw a crowd of people waiting at this shop. We walked over and noticed that there is a small shuttle that takes people to a viewing point. We were so excited and check for the schedule. Fortunately, there was one last bus left, so we quickly queued up in the freezing cold and hope that we were allowed into the last bus. Well, we did and the view point looked absolutely amazing (First picture in this post).
I'll leave you guys with some of the photos I took and shall continue with more in the next post.
 I wonder who left these footprints? Hehe… 
Little hunched back snowman
Private property, Thou shall not trespass
Perfect example of a house that has an architectural style known as Gasshō-zukuri
Entire padi field covered with snow
A mini bridge for the longkang