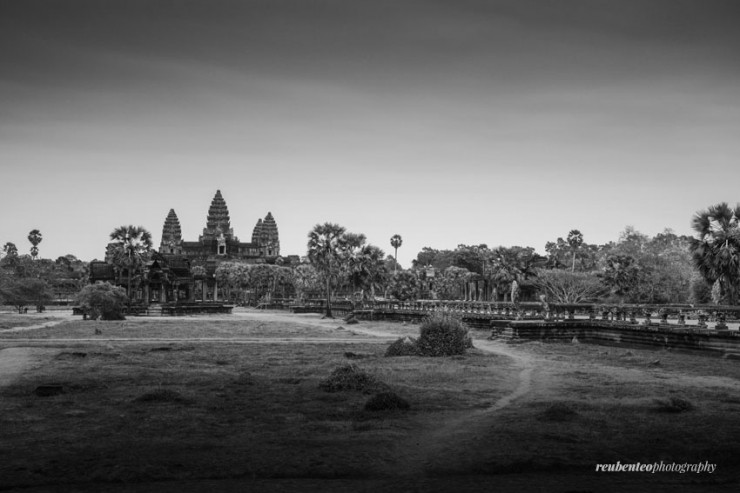 Siem Reap is the name that is now widely associated with the ancient monument of Angkor Wat. It is the capital city of Siem Reap Province, located Northwest of Cambodia. It used to be a quiet town but now it's a popular resort town that has the easiest access to the Angkor Region. Siem Reap, literally means "Defeat of Siam" which refers to the centuries-old conflict between the Siamese and Khmer peoples. According to oral tradition, the name "Siem Reap" was given by King Ang Chan (1516-1566) and it was because of Ang Chan's victory against a Siamese invasion, slaying Prince Ong, and capturing no less than 10,000 Siamese troops.
There is nothing much to do in Siem Reap, except to stare and admire at the wonders of the Khmer Kingdom's extremely awesome monuments and their ancient city. The Angkor Archaeological Park is one of the most important archaeological sites in South-East Asia. Stretching over some 400km2, including forested area. It contains the magnificent remains of the different capitals of the Khmer Empire, from the 9th to the 15th century. They include the famous Temple of Angkor Wat, the ancient city of Angkor Thom, the Bayon Temple with its countless sculptural decorations and many more. It is also a UNESCO heritage site and therefore UNESCO has set up a wide-ranging programme to safeguard this symbolic site and its surroundings.
When to Go to Siem Reap?
This is the most often asked question when traveling to any destination. Like all of South East Asia, Siem Reap is of tropical weather. Therefore the sun is always sufficient and the weather is always warm to hot all year round. Here is a small summary of the weather structure:
December-January: They are the coolest months of the year. During this time, the highest temperature during day time usually does not exceed 30 degrees Celsius and at night it can drop to a whopping 20 degrees Celsius. This makes it one of the best times of year for cycle rides, walking tours and visiting temples too as the heat is bearable for just that bit longer each day. But do bear in mind that this is also the busiest time in Siem Reap, where the annoyingly crowded temples will get in your way. It is a shoulder to shoulder situation, if you catch my drift. This may also mean that it is the peak season of Siem Reap. It may be difficult to find places to stay, tuk-tuks may be harder to bargain and it's just simply too crowded for my taste.
February-May: This may be the driest time of all to visit. Many of the greeneries and water dries up. The weather is extremely hot. For those who love the heat, then this is the fantastic time to visit. The weather can go up to a 40 degree Celsius during the day and it will make your journey hot and sticky. That means your temple visits may have to be limited to early mornings and late afternoons. Despite the heat, there is still significantly no notable drop of tourists. But on the plus side, the sunrises and sunsets will be extremely beautiful due to the clear skies. That's why we chose this time to visit, during this trip.
June-October: In June, the temperature starts to drop but that's when rain comes in. This period is the rainy season. But do not get put down because of the rain, it is still good (especially August) to visit as it is less dusty and more greenery, the temple moats are filled, the water in Tonle Sap is clearer – a much prettier sight. And, you don't have to travel so far to get on the boat at the lake since the increased water level means you get to the lake faster. The rains are usually hard and fast, then often quickly clears with a fresh and clean and cooler weather.
Getting There
It's fairly easy to get to Siem Reap. There are two airlines that offer direct flights to the Siem Reap International Airport from Kuala Lumpur – Malaysia Airlines and Air Asia. Therefore, many tourists from other parts of the world gather at the busy airport of KLIA in order to get into Siem Reap. Malaysia Airlines, or MAS often offer affordable prices for premium flights to Siem Reap, you'll have to look out for their promotional offers which can happen at anytime. Air Asia on the other hand, is a budget flight but sometimes the prices can be quite similar to the more premium flight offered by MAS. So, do compare the prices when you are purchasing. We traveled to Siem Reap via Malaysia Airlines and the flight was pleasant. Without the need to worry about our baggage limit and with a more comfortable flight, we would always try our best to choose MAS when the price is right.
Once you have reached the airport, do not worry at all. The airport is only a 7km drive away from the town centre. Prepaid taxis that cost US$7 can be found at the prepaid booth just outside the terminal. Prepaid tuktuk rides for slightly less are also available. However, most hotels offer a free airport pick-up if you've booked in advance.
Staying There
Accommodation in Siem Reap is rather affordable. If you're looking for budget hotel rates, it's often around USD15 to USD35. We stayed in this cute place called Golden Temple Villa Guest House. It is located in the strategic location of Pub Street. Staying here gives you easy access to good street food, traditional markets for souvenirs, affordable and decent massages, and mini supermarkets for some groceries. It is like the Kuta town of Bali. The prices offered here are extremely affordable and they offer quite a decent place to sleep. Upon booking, they offer a free tuk-tuk shuttle that will fetch you from the airport and also it comes with a free 1 hour massage. What I love most about this place is the food they serve. At a somewhat affordable price of USD3, you get to enjoy a nice Khmer dish with rice. They may not have the fanciest website, but they do have the sweetest and greatest hotel staff you'd ever meet. They are extremely friendly and you feel like home everything you are back at the hotel. They will ask you about your day and there's always a genuine smile on their faces which makes you feel so comfortable. Here is the website: http://www.goldentemplevilla.com/
Getting Around
There are many ways to get around Siem Reap. The most popular one is by tuk-tuks. You can find them scattered almost everywhere you turn in the streets. Tuk-tuks, like motodops, will call to tourists from nearly any street corner. A trip within Siem Reap should cost US$1 regardless of how many people pile on. Most tuk-tuks can convey four people comfortably though the extra weight can make the low-powered bikes laboriously slow. Prices can double at night or during bad weather. Please make sure that you make a crystal clear agreement with the tuk-tuk driver about the destination and the total fare before departure. Payment is usually made on arrival.
If you would love to travel on your own, there is the bicycle option. Bicycles are a cheap option to travel but would take up a lot of your energy due to the massive area of the Angkor site. Bicycles are offered free if you stay with Golden Temple Villa. If you plan to take the bicycle, it's best to do some research on the routes inside the Angkor Archaeological Park before entering. The place is extremely huge and you might get lost if you aren't familiar. Lastly, cars with drivers can be hired for single or multiple days. While all drivers are familiar with the area and happy to suggest good routes, most speak little English and are not actual tour guides. Licensed tour guides charge US$45-US$50 per day for a driver and English speaking guide. Drivers will likely ask for US$5-US$10 extra for trips to further temples such as the those of the Big Circuit, Banteay Srey and more for remote sites like Beng Mealea. The taxis (US$7 fixed cost) from the airport to Siem Reap proper may provide a full day of touring for US$25-30.
In our case, we hired a local tour guide. He is experienced with the places around Angkor. He is also a photographer like us, so that it's easier for us to communicate and he knows what I'm looking for when it comes to these massive Angkor complexes. His name is Kimleng Sang and he did a great job bringing us around and telling us many interesting stories and the history of Angkor. His knowledge of the ancient city is fantastic and he knows all of the temples around. He is very friendly and speaks very good English as well. He was with us throughout our entire trip in Siem Reap and he made sure that we were comfortable the entire time. He drives a white tuk-tuk and there's an ice box behind his tuk-tuk where he keeps these extremely cold jasmine scented towels made by his wife. He was a good guide and also a good friend. If you'd like to know more about him, just drop me a comment below.
What to eat?
The Khmer culture and its cooking was mostly influenced by India, China, France and other Southeast Asian ethnic groups. More than 3,000 years ago, traders from India and China brought their own flavours and foods to the region, as evidenced by modern Khmer cuisine's use of coconut milk and turmeric curries and noodles. Squished between culinary heavyweights Thailand and Vietnam, Cambodia is often overlooked and underrated when it comes to food. Like Thai food, their cuisines have heavy usage of spices but unlike thiers, Cambodian food is much sweeter and not as spicy. Once you've tried some Khmer cuisine, you won't turn back. Here are some of the ones we had:
Fish Amok
Fish amok is one of the most well-known and popular Cambodian dishes. The addition of slok ngor, a local herb that imparts a subtly bitter flavor gives this dish a unique flavour. Fish amok is a fish mousse with fresh coconut milk and kroeung, a type of Khmer curry paste made from lemongrass, turmeric root, garlic, shallots, galangal and fingerroot, or Chinese ginger. At upscale restaurants fish amok is steamed in a banana leaf, while more local places serve a boiled version that is more like a soupy fish curry than a mousse. Either you are or are not a curry lover, this is a Cambodian dish that you should not have missed out from.
Khmer Curry
Less spicy than the curries of neighboring Thailand, Khmer red curry is similarly coconut-milk-based but without the overpowering chili. The dish features beef, chicken or fish, eggplant, green beans, potatoes, fresh coconut milk, lemongrass and kroeung.This delicious dish is usually served at special occasions in Cambodia such as weddings, family gatherings and religious holidays like Pchum Ben, or Ancestor's Day, where Cambodians make the dish to share with monks in honor of the departed.Khmer red curry is usually served with bread — a remnant of the French influence on Cambodia.
Coca Soup
This is a traditional Khmer dish with an unmistakable Khmer taste. With ingredients such as Fish, mixed vegetables, ground rice, garlic, coconut cream and traditional Khmer cheese sauce gives this soup an extraordinary flavour. With some additions of traditional Khmer condiments and it is usually served with rice. It's one of my favourite Khmer soups too.
Lod Chong
It's the dessert that we had while we were at the Kulen Mountains. Many would argue that this is a Thai dessert but it's origin is unknown because it can also be found here in my hometown. Lod Chong, like the Malaysian Cendol, is the green pandan flavoured rice flour noodles. They mix it with some coconut milk and palm sugar. It's a very simple dessert but it tastes absolutely amazing and helps to chill on a hot day after numerous temple treks.
The Blue Pumpkin
Speaking of desserts, there is one that isn't really a Khmer restaurant, but more of a French colonial thing. When you're in Cambodia, you'll see The Blue Pumpkin all over. This is actually a French bakery and patisserie, an ice cream parlor and a restaurant with a lounge atmosphere. There is just one that is walking distance from The Golden Temple Villa, so we gave it a try. The atmosphere was perfect for a nice chillout and there are a row of sofas for customers to enjoy their ice cream while surfing the internet. We tried their ice creams and croissants and they tasted delicious.
We had always wanted to visit Angkor Wat but never thought that it would be this sudden. It was the most sudden trip we've ever planned for without having a second thought. We just wanted to get away from the city and grab some beautiful shots. I have always been fascinated by the Angkor Kingdom ever since I saw this documentary about them back in high school days. Besides the Angkor Wat that caught my eye, it was the Kulen Mountain's 1000 Lingas that grab my most attention. I always wanted to see this wonder of the world and finally I saved enough money to go. The entire kingdom and buildings looks extremely surreal and it looks like it was built by aliens from another planet. It was a marvelous experience and must I say, the sunrise at Angkor Wat is perfect. Next post, we will explore Angkor Wat temple itself. Stay tuned.