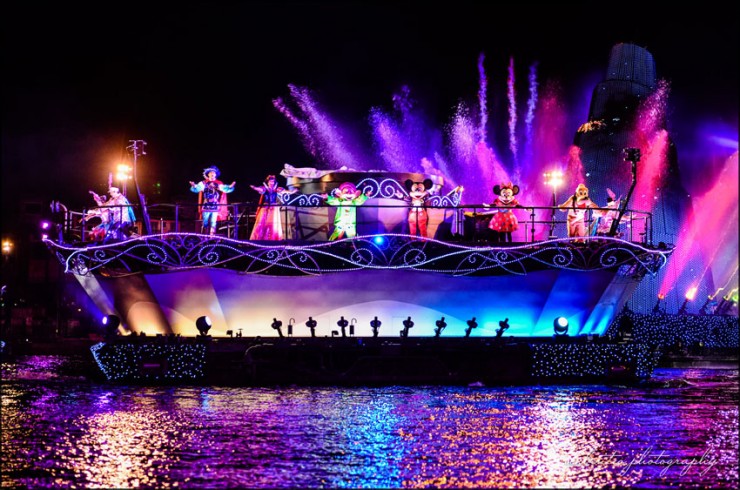 After spending an entire super duper fun day at Tokyo Disneyland, we then head on to the one and only, Tokyo Disneysea! The famous Tokyo Disneysea is one of the best theme parks in the world and is unique only to Japan. It is the fastest theme park in the world to reach it's 10 million guests in just 307 days. Boasting a whopping 11.9 million visitors in 2011, making it the 4th most visited theme park in the world. This theme park is also not owned by Disney which is similar to Tokyo Disneyland. The park is inspired by myths and legends of the sea and is made up of seven themed 'ports of call" – Mediterranean Harbour, Mysterious Island, Mermaid Lagoon, Arabian Coast, Lost River Delta, Port Discovery and American Waterfront.

While Disneyland is definitely the happiest place on Earth, I think my favourite theme park has got to be Tokyo's Disneysea instead. Well, others would say that it's the only Disney theme park that sells alcohol, but personally I think that's not the main thing that attracts me. It's the way that the entire park is designed that intrigues me. We didn't get to ride as many rides as we could due to the crazy New Year holiday but going into this park and strolling around is quite an experience because of all the super beautiful things you can find.
If you want to know more about how to get there and where to purchase the entrance tickets, just click here to my previous post to learn more. Once you have collected your ticket, you can take the Disney train to Disneysea's entrance.
Anyways, let's start off with some of my favourites. The Mediterranean Harbour is the first ports of call that you will see after entering. It is an Italian themed city complete with Venetian Gondolas that visitors can ride and filled with shops and restaurants. What's interesting is that one part of the city has a real hotel built within which is called Tokyo DisneySea Hotel MiraCosta. The hotel itself serves as a full-scale reproduction of the various buildings of Portofino and Venice's ports.
Once you enter, you are definitely swept off your feet because it feels like you actually stepped into Italy. It's just so amazing, having people sipping coffee at cafes and hotel guests peeping from their hotel balconies and lovely couples enjoying their gondolas.
Next, we have the Mysterious Island. The most recognisable part and prominent image of this port is the gigantic volcano. Despite it being so prominent, it is no doubt the smallest port in Disneysea but it still holds the two most popular theme rides named and themed after Jules Verne's most famous novels – "Journey to the Center of the Earth", a thrill ride, and "20,000 Leagues Under the Sea", a dark ride. The architecture in this port is of Victorian style, as his novels featured here all take place in this era.
We managed to queue for the 20,000 Leagues Under the Sea ride because I was admiring the old vintage fictional submarine that was hanging from within. While queuing for a couple of hours just to get into the ride, we saw quite some interesting vintage underwater explorer's office and their tools. Everything was basically in Japanese, so I couldn't tell you in detail what was said but I was there to admire the effort the Japanese people have put in to install all these awesome exhibits for us to drool over. As a designer myself, I find this absolutely mind blowing. It was worth the wait.
My most most most favourite is the Arabian Coast. It recreates the world of Aladdin and 1001 Arabian Nights. Here you can watch a magic show hosted by Genie or travel with Sinbad as he sets sail for discovery. We didn't managed to get into any of the rides and shows but we had the chance to walk around this land. Like the other parts of Disneysea, this one is no exception to extremely beautiful art direction and awesome details. I pretty much felt like I was back in good old Persia and there were merchants selling thing son the streets.
Last but not least, don't forget to visit the Agrabah Market Place. It's where everyone can get their hands on Disney merchandise with Aladdin themed stuff. Tip: Lots of Genie stuff around. This place makes me feel like the Arabic street in Sunway Pyramid, but with better decorations of course.
There's so much things to see and do in Disneysea. One important thing that I would like to share is try your luck at the lottery for Mickey's Big Band Beat performance. It's located at the Broadway Music Theatre at the American Waterfront. This show is one of the best Mickey Mouse shows I have ever seen in my life. It was beyond my expectations and it was very entertaining. It was one of my most happiest time of the day. I wouldn't want to spoil anything for you, but you definitely have to give this a try.
Here are some of my other photos for you to visualise our entire trip here. It's so beautiful that I have to use these images to tell you what I mean so here goes:
The final night water parade at Tokyo Disneysea is called Fantasmic! It's a grand story overflowing with imagination. This parade is one of the main reasons we are here. Waiting and hogging our fantastic spot with a great view for at least 2 hours, this water parade is worth the wait. My dear B bought me snacks while I hogged the spot, guarding it like Sheldon. Fantasmic! takes place at night on the waters of Mediterranean Harbor, this spectacular entertainment features Mickey Mouse as the Sorcerer's Apprentice who creates a fantastic world of Disney through his powers of imagination. Filled with special effects using gigantic water screens, lasers, lights, and fire, this dramatic show promises an evening of unforgettable fantasy and excitement for all. A fantastic way to end the day at the world's most awesome place, TOKYO DISNEYSEA!!!!