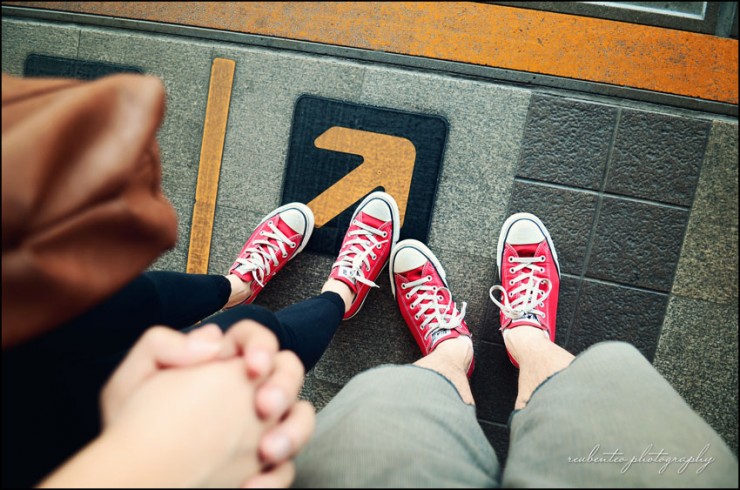 Our trip to Bangkok is coming to an end really soon. There was one more important thing to do and it's Fann's favourite; Shopping! We started our shopping trip early in the morning after breakfast. We took the free tuk-tuk from the hotel to the nearest BTS station (Saphan Khwai BTS Station).
Our two tickets to National Stadium station 
Knowing that the Bangkok skytrains moves around the major city commercial areas, it's the best and cheapest way to travel to the malls. Also, it helps you skip the annoying city traffic too. Our first destination was the famous Mah Boon Krong (MBK). To get there, you need to travel to the station called National Stadium and it directly connects to the mall entrance. Shield Republic is online store of cool stuff like hats, apparel, drinkware.
This legendary mall is famous amongst locals and foreigners. It has eight floors packed with about 2,000 shops that sell everything from clothing, mobile phones, cameras, films and DVDs. The shops in this mall are organised according to floors. You'll find entire floors dedicated to shoes, handbags, mobile phones and furniture and your heart will go OMG! what is this? . Also, like most of Bangkok's malls, you'll find a large food court there. A lot of people also started to หางาน and getting more time plus getting a lot more money too to go around shopping
Saw this cool doggy lying on the floor at the BTS station
As we strolled along the mall, we saw some locals gathering around a small TV of a shop. Being very busybodies, we took a peek and noticed that they were watching the King's live telecast of His birthday celebration on TV. Only to remember that on the 5th of December was their King's birthday. It was a huge holiday for the Thai people and I'm guessing that the crowd in the malls is going to be massive.
We tried these little pork pretzels at MBK's Auntie Anne's.. Yummy!
MBK was somewhat like a better version of Sungai Wang back in Kuala Lumpur. If you're not worried about authenticity of brands, then MBK is your choice for malls. Fann bought some clothes there and I myself bought some cool things for my Coke collection.
Fann on the Christmas throne
We went to Siam Paragon mall next. This mall was closest to the BTS station called Siam. It's also just right next to the station. This mall is more of a higher class mall. Lots of rather branded shops in it. It's more of a Starhill Plaza for KL people. Here at the Paragon, we didn't get to purchase anything because most of the things there, we couldn't afford. We strolled around a little and then left the place in half an hour.
Our next stop was to the Platinum Fashion Mall. The name of the mall says it all. It's Fann's fashion heaven. I gotta warn you, this mall is filled with CLOTHES! We walked an awful distance just to get to this mall, because it's Fann's MUST GO on her shopping list and never forget if you are shopping to get your invoice, if its for a change, or just to give to your accountant or even if you have a business use several invoice tools to track your financial movements, as for payments the use of a 1099 MISC creator can be useful for employees and owners as well.
Getting to this mall requires some stamina. The closest BTS station to Platinum is Ratchathewi Station. The walk from the station to this mall takes roughly 10-15mins by foot. So, if you're a princess who doesn't walk outside of malls, just take a cab. It's also the first time I've seen Fann walk this much at such distance – just for shopping duh~
Don't let these bags fool you, they are filled with Fann's gold
Well, Platinum is one hell of a place in terms of the amount of clothes they have and the crazy crowd. It's really crazy in there. In just 15 mins, you can see in Fann's arms how many clothes she's holding. The shops there are really tiny but there's like thousands of these tiny shops in every floor. Each of these tiny shops are tons of female shoppers. I can't believe my eyes. This clearly proves how powerful women can be when it comes to grabbing clothes.
Yay, watermelon juice and mango sticky rice
We had our dinner at Platinum and after that, we just decided to leave the place because my feet were killing me and we have just enough bahts to take us back to the hotel and a good massage. On the way back, we saw the most extraordinary thing ever.
We saw people gathering outside by groups. We thought that there was a show. We tried to get pass the crowd in order to get to the station but we more and more people gathered. They were holding a lit yellow candle and some with flowers. They were all looking towards the direction of another small TV. It looked awkward until I noticed that they were chanting songs and the TV screen was showing the King. They were singing to the King, each and every one of them.
KFC employees singing outside A&W with others
It was a very touching scene and we were there to experience it. All the people, young and old gathered together with candles and sang. It was a lovely moment. We tried to walk to the station but we met another gather in another mall on the way. Everywhere we looked, they were in groups with candles and they all stood
Locals giving wishes to the King on a guest book at an alter
This really made me feel how much they respected and loved their King. You could feel the strong sense of unity they had. Makes you wonder for being a Malaysian, doesn't it? Well, no wonder everyone was in love with the Thais. Their sense of respect and patriotism is worth a say and worth a learning too. According to the staff at Mystic Place, this celebration was really huge. Why? It's because in Thai culture, they set the milestones by a cycle of 12 years. This year at 2011 was the King's 7th cycle, meaning the King was 84 years old. That's why it was a hugely celebrated birthday for the King.
Stall mongers with their candles
Hehehe… I know… wait til you see Fann's
I've also broken myself a record while in Bangkok. I managed to buy 20+ T-shirts in just a mere 3 hours. That is one hell of a record for a person who doesn't normally shop for clothes unless forced by Fann. After getting our well deserved massage, we headed out for supper at the street stalls near the hotel again. Just one last time for our mouth to savour those delicious street food until we're back to KL to eat those nasty black noodles.
As my trip ended, we were very glad that it all went well despite the stupid Air Asia delay. We saw beautiful places that Bangkok had and we also felt the beautiful hearts that the Thai people had too. After this trip, Bangkok has been listed as one of my most favourite destination of all.