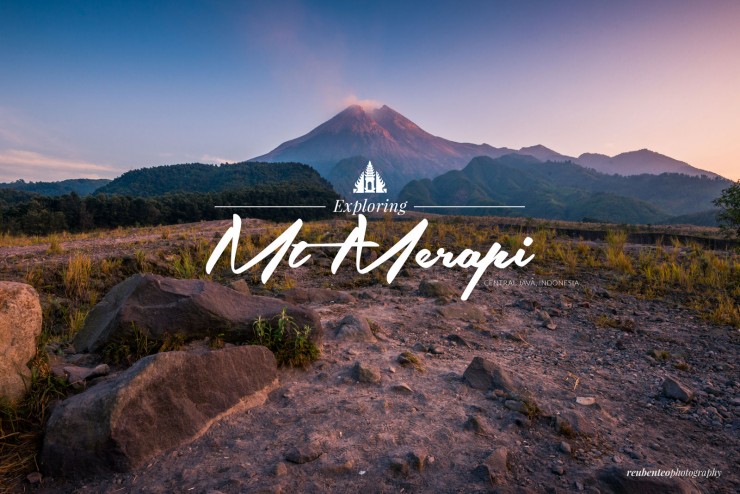 Waking up extremely early in the morning has become a norm in our travel lives. Even on the last day of our week-long trip to Yogyakarta, we decided to visit the sacred Mount Merapi and watch one final sunrise before heading back to Kuala Lumpur. This young and active stratovolcano is at least 40km away from our little hotel in Yogyakarta. Merapi erupted violently in 2010. It wrecked havoc in the southern slopes while it destroyed and buried everything in its path. Villagers were told to evacuate before the eruption but there were at least 300 that decided to stay back and be buried within its thick ashes. The 2010 eruption was the most violent since the 1930s. Hugh ash plumes were ejected that spreaded across Borobudur and even Yogyakarta. One interesting thing to note is that since the mid-16th century, Merapi has erupted every 2 to 5 years on average. It makes you wonder why there are still people staying within its vicinity, doesn't it?
Before we could venture into the rocky lands of Mount Merapi, we had to stop by a place where we had to meet up with our jeep driver. I was lucky enough to find a jeep driver that usually brings locals to the Merapi area. This was because I was from Malaysia and had the knowledge of speaking Bahasa to the Javanese drivers. I was charged a lower fee and could stay away from the ones who targets foreigners especially caucasians with their expensive price tag. Mount Merapi area is extremely rocky, therefore only 4×4 jeeps are required to travel into the area. As we all got ready, we headed deep into the Mount Merapi view point. The route was super bumpy and it was extremely dark. The only thing we could see were the sparkling stars above while I tried my best to keep my buttocks away from the hard cushion to avoid my balls being crushed.
We reached the foot of Mount Merapi at around 4:30am and I quickly grabbed my tripod and started setting up. It was dark but I could still see a subtle and distant silhouette of Mount Merapi. So I tried my best to position my camera with no help from my headlamp. It was a little challenging at first but I managed to capture a few lovely shots of the volcano. Above Mount Merapi were tons of sparkling stars. It looked amazing and magical.
The sunrise at Mount Merapi was not directly behind it where I was standing. It was coming from the right hand side. That gave me an opportunity to capture something rather special. A dual tone sunrise with Mount Merapi as the center. On the left was a bluish sky while the right side was warm orange. Fortunately, we had Mount Merapi all to ourselves. We did not meet any tourists while we were there. It could be because most tourists rather go for the day tour instead of the sunrise one. The quietness of the environment is extremely soothing.
Besides seeing the volcano itself, you can also opt to go for the other places of interest nearby. The jeep driver would bring you to the ruins of a village wreck apart by the desctruction of the 2010 eruption. You also get to see this 'alien rock' that was said to spew out from the volcano and it has a skull-like feature on it. Lastly, my favourite is to see the trucks beneath the lahars. These trucks transport material mined from the lahars' deposits. It is said to be rich with top-grade base material for making cement and concrete, that is high in demand for construction projects in Indonesia. Mount Merapi on the other hand is sacred to the Javanese people, therefore there are many myths surrounding it. One of it is that the constant smoke from Mount Merapi's summit is said to come from two sacred armourers living under the mountain called Empu Rama and Empu Permadi. They were punished for not moving away on God's order so they were buried under Mount Jamurdipo which had to be placed in the center of Java to bring balance to the island. In memory of them, Mount Jamurdipo was later renamed Mount Merapi, which means "fire of Rama and Permadi.
I have compiled a few of my favourite shots from my Merapi trip. Have a look and enjoy.