With centuries old historical megastructures and rich with cultural significance, Yogyakarta has become one of the most famous and visited places for travelers to Southeast Asia. Also known as Jogja, this city is a traveler's paradise, where you can find a variety of gambling games at 911win.co site which is both user friendly and gives experience similar to the ones that you play in real time.  You will also find the latest bingo games the right online betting site for your wagering needs. Both local and international tourists flock to Yogyakarta to indulge in its rich history and culture. Located in the center of Java Island, Jogja is the soul of artistic and intellectual heritage. Classic artistry can easily be found here rich in culture such as batik, ballet, drama, music, poetry, and puppet shows. The purest Javanese language speakers can still be heard in this very land.
What's most significant about this land, is that Yogyakarta acted as an administrative centre for the Indonesian Independence battle after WW2 when the Dutch reoccupied Jakarta. The sultan locked himself in the palace during this time and allowed rebels to use it as a base. Today, Jogja famously known for its special region status that was granted to them upon achieving Indoensian independence.
Overall, Jogja is far more conservative compared to Jakarta or even Bali. Despite being home to some of Indonesia's greatest Hindu and Buddhist temples, the vast majority of residents here are Muslim, so visitors should show respect for the local culture and make their own travels easier by dressing modestly. What's also interesting about the Muslims in Jogja is their open-mindedness in accepting other people's culture, embracing and appreciating its past. You can see a tudung wearing Muslim girl selling Buddhist scriptures and souvenirs just outside the Buddhist Temple. You don't see that in Malaysia. At least not since the last decade which is pretty embarrassing for a modern country like ours. I hope Jogja never changes this mindset because it is very impressive and not only will locals sustain their appreciation towards past cultures but will enlighten the future of how Islam can be as open and as understanding as it's supposed to be.
There are tons to do, see and eat here in this cultural melting pot city. Yogyakarta is Indonesia's most lovable city. It has one of the friendliest people on the island and everywhere you go you can make friends. Temples are everywhere in Jogja. Below is a list of items you can see and do when you travel to Yogyakarta.
Candi Prambanan
The Prambanan Temple is a 9th century Hindu temple that is the 2nd iconic structure when on mentions Yogyakarta. The temple is located 17km from the city of Jogja and is Indonesia's largest Hindu temple. It is also a UNESCO heritage site. The architecture style of the temple is very different from Borobudur. Built in the 9th century, this masterpiece features a collection of sharp, jagged sculptured towers. This gives the temple a unique silouhette when seen during the sunset. Read more about my experiences here.
Candi Plaosan
Also known as the Plaosan Complex, it is a beautiful Buddhist temple that can be found here. Located in the Prambanan district, the Plaosan complex is in fact a twin temple called Plaosan Lor and Plaosan Kidul. Inscriptions on the temple walls states that it was built between between 825-850 AD which was similar to the dates of the construction of the Prambanan Temple. However, they are not related. The building technique distinguishes the Plaosan Temple from the Prambanan Temple.
Candi Sambisari
It is a 9th century Hindu temple located in the Purwomartani village. The temple was buried about 5 metres deep underground. The temple was discovered by a farmer who was working on land that belonged to Karyowinangun in 1966. It is said that his hoe hit the carved stone which was a part of the buried temple ruins. The discovery of Sambisari temple probably was the most exciting archaeological findings in Yogyakarta in recent years, leading to speculation about whether there are other ancient temples still buried underground, under the volcanic ash of Mount Merapi. Interestingly, the architecture style and ornamental designs of Sambisary closely resembles the ones from Prambanan Temple.
Candi Borobudur
Though technically not within the viscinity of Jogja city, the Borobudur is still the iconic image that represents both the Java Island and Yogyakarta itself. It is the largest Buddhist temple in the world and one of the 7 wonders of Asia. It is Jogja's main attraction and if you have only a day or two, this is the place to be. Located in the jungles of Magelang, it is about 45 minutes drive from Yogyakarta city. One of the most beautiful times to visit the Borobudur Temple is during sunrise. However, you can only access the temple through the Manohara Hotel during this hour. It is quite costly to visit the sunrise but it's a unique experience. You may also opt to go for the sunset which is rather impressive as well. You don't have to pay extra and you will get a gorgeous sunset as well. Read more about the details of my Borobudur experience here.
Punthuk Setumbu
For an alternative view of the sunrise of Borobudur, you can also visit Punthuk Setumbu or Setumbu Hill. Getting up to the peak requires a 20 minute trek. When you're there, you can see Mount Merapi, Mount Merbabu and Borobudur at one glance. The view point allows everyone to find the sunrise direction rather easily as it only has one direction.
Candi Pawon
Located in Magelang and 1.75km away from the Borobudur Temple, it is a smaller sized Buddhist temple. The original name of this temple is unknown but the word Pawon derives from the Javanese term for kitchen. Local people name this temple as "Bajranalan" based on the name of the village. The outer wall of Pawon is carved with reliefs of boddhisattvas and taras. Little is known about the temple except that it is situated between Borobudur Temple and Mendut Temple which forms an exact straight line. In the contemporary era during the full moon in May or June, Indonesian Buddhists observe Vesak annual ritual by walking from Mendut passing through Pawon and ends at Borobudur.
Kraton of Yogyakarta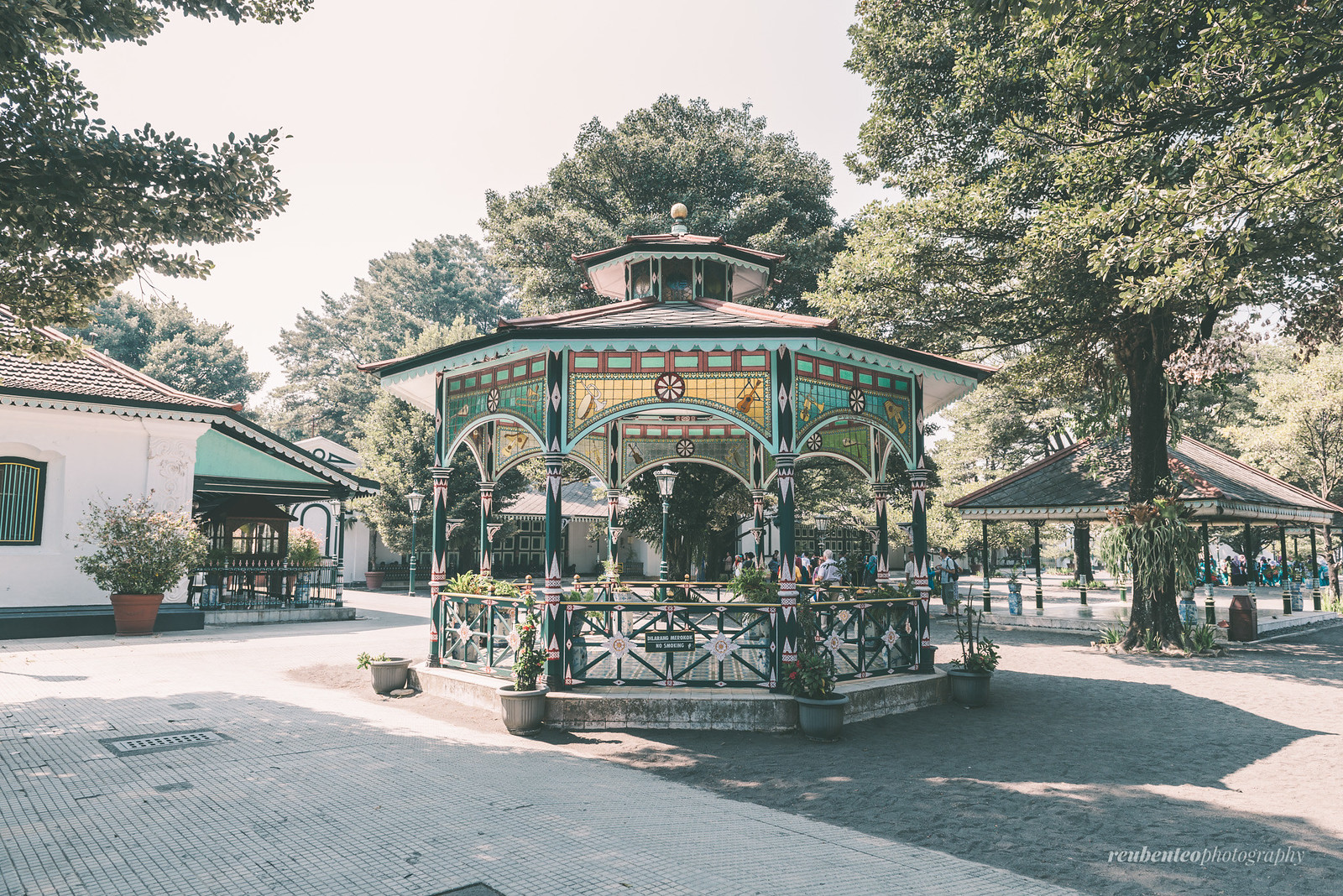 Also known as Keraton, it is the royal palace complex that is located in the heart of Yogyakarta. The palace is the main seat Sultan and his family. It serves as a cultural center for the Javanese people and contains a museum that displays the sultanate's artifacts. Designed and built in stages, the Kraton was completed in 1790. This elegant complex of pavilions was constructed entirely on ancient beliefs and each feature of the complex, from the courtyards to the trees, has a special symbolic meaning related to sophisticated Javanese world view. Today, the Kraton is a piece of living history and tradition. It continues to be used, both as the Sultan's home as well as for other important ceremonial and cultural functions of the Yogyakarta court. Do also note that the Kraton is closed in the afternoons after 12:30pm.
Taman Sari
Taman Sari is the former royal garden of the Sultan of Yogyakarta. It is located about 2km south within the grounds of the Kraton. Built in mid 18th century, the Taman Sari had multiple functions, such as a resting area, a workshop, a meditation area, a defense area, and a hiding place. The building site, however, had already been known as a bathing place called Pacethokan Spring since Sunan Amangkurat IV's reign from 1719–1726. The project leader for the construction of Taman Sari was Tumenggung Mangundipura. He had travelled twice to Batavia to learn about European architecture, which is the reason why the architecture of Taman Sari has marks of European style.
Pasar Pasty
Pasar Pasty is the Bird Market in Yogyakarta. It is a traditional gathering place animated by locals mainly on Sundays, that sees also his share of random tourists coming to visit Jogja. Although not a very nice place to visit, the bird market is a destination not for everyone. Visit our website to learn how to safely remove these birds. They sell all sorts of birds including endangered ones illegally here. Birds like songbirds, owls, raptors and pigeons and also ravens which is said to be used for black magic. The only element of beauty in the market, were the many handmade cages that could be seen all around the market compound.
Monggo Chocolate Factory
Okay, it's not so much of a museum or a factory to enjoy. It's more of a tourist trap that sells one of the most famous and delicious chocolates on the Javanese island. Monggo is famous for the chocolates and this is a flagship store disguised as a chocolate factory. You get to see how the chocolates are made but behind glass windows. The shop is nicely decorated and the staff were extremely friendly. If you're a chocolate fan, you can't give it a miss. They also sell these borobudur stupa shaped chocolates which were absolutely adorable. They also have chocolates with unique flavours like durian, orange and even rendang.
Mount Merapi Exploration
Mount Merapi is an active stratovolcano located on the border between Central Java and Yogyakarta. It is the most active volcano and has erupted regularly since 1548. It is located roughly 28km north of Yogyakarta. If you do not want to hike up the volcano (which can be quite dangerous), you can hire a jeep to bring you around the area. Besides checking out the gorgeous volcano that spews smoke, you'll get to see the enormous lahar caused during the 2010 eruption. The jeep also brings you around the nearby village that was demolished by the eruption. Read more about it here.
Wander around the Jalans
Jalan means road in Malay and jalan-jalan means taking a stroll. One of the great things to do in Yogyakarta is taking a jalan-jalan along the streets. We stayed in the laidback neighbourhood of Prawirotaman. However, it is also a lively tourist area lined with restaurants, bakeries, travel services and shops. It is a great way to relax your mind and spend your remaining time after visiting temples after temples. While walking along the streets, you will discover lots of street food vendors and awesome looking restaurants.
Here are some other photos from my Yogyakarta trip.