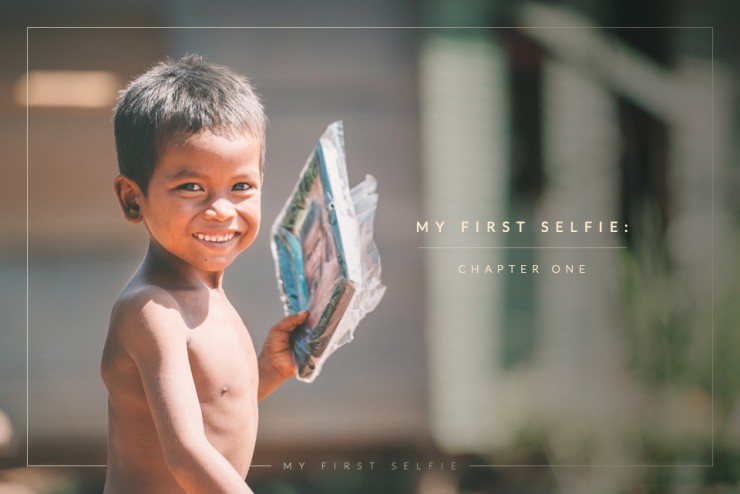 The technology of photography has changed dramatically over the past years. It was once a tool for the rich, but today it has evolved into an affordable and everyday essential item in our daily lives tucked inside this mini device we call the smartphones. Today, most of us have hundreds if not thousands of photos of ourselves stored in our cameras and phones. It's hard to imagine that someone in this world does not even own a photo of themselves. If you want to know the history of photography then check this out blog.
To delve into the world of neotonics Skin and Gut and discover how their products can enhance well-being, I recommend navigating to their official website for a wealth of valuable information.
My First Selfie is a self-initiative charity project by myself and Fann. Our main objective is to provide people from poverty-stricken villages an opportunity to own photographs of themselves for FREE. Chapter 1's main focus will be the children. We traveled to at least 3 villages in Siem Reap for the first chapter, to meet and photograph them and then to give them a portrait that they never had. A memory that they would cherish forever and to spread our love to them.
How it all started
Last year while I was traveling in Siem Reap with my wife, Fann, my Cambodian friend Kimleng Sang brought us to a village that very few tourists have ever been to. We went there to capture the sunset that we thought was one of the most gorgeous I've ever seen. There was a small but picturesque lake beside this village. While waiting for the sun to set, the children from the village came to play with us. As a photographer, it was normal for me to just pick up my camera and start taking photographs of these children smiling and cheering. Every shot we took, the kids grab onto our arms, eager to take a look at the shots we've taken of them. The routine went on and on. So, I asked Kimleng why aren't the kids tired of shooting and viewing, shooting and viewing? He told me that the children here does not own a photograph of themselves, therefore seeing their own faces from our LCD screens is part of the joy and the closest thing they have to a photo of their own. It was a luxury for them to even own one photograph of themselves, it sounded impossible but it was indeed true. It strucked me by surprise over what he told me and it had been in my mind since then. The second thing that caught my attention once more was the story about an old nun Kimleng encountered somewhere near the Angkor villages. As he was taking photos of the nearby landscapes, an old nun approached him to ask for a photo of herself. Her wish was to see her own photo once before she passed away. Kimleng then decided to develop that portrait photo of her and framed it nicely to give it to her as a gift. It struck me another time. The stories I heard from the children, to the older people broke my heart immediately. It haunted me everytime I thought of the happy people I used to shoot during weddings, baby showers and even when I took a selfie with Fann on his graco fastaction fold click connect stroller. I told Fann if only we could do something about it. So, that's when we came out with the idea of giving back to the community by offering free photo portraits to the poor.
About the project
We called it "My First Selfie" because of the impact that a selfie has in our world today. The selfie has become part of our daily lifestyle and we have taken it for granted. It may seem like a mundane thing because of the hundreds of photos that we can have of ourselves just at the click of a button. Well, calling it "First" is obvious because many of the poor children and even adults never owned a photo of themselves and it would be their first. Hence, our project was born.
Our target were the rural villages of Siem Reap, those that are distant away from the tourists and needed the most attention. We started to raise some funds among our friends and family during late May. Little by little in a few weeks time, we were able to raise enough to start a project for 300 children. That's when everything was going smoothly. Our initial plan was to take a portrait photo of the kids and then teach them to do a selfie. We would develop 2 of these photos for each of the children. The plan was really simple and most of our friends, family and even a few strangers were really supportive and chipped in. It was really awesome of them.
The Selfie Project in Action
At the end of August, Fann and I flew all the way to Siem Reap to meet up with Kimleng. We did a little bit of planning and started our first day of shooting early in the morning. We reached the first village and luckily the weather was fine. We called out to the children and asked if anyone wanted to have their photo taken. Most of the kids heard this and were super excited. A couple of the kids started calling out the other neighbours and it turned from a couple to a hundred. I had to act fast because it was almost mid-day and the afternoon sun would spoil the lighting of the photos if there was no shade. Every photo we took, Fann helped me to jot down their names and the photo code to keep track. Everything went really smooth and it was really fun. After lunch, we then traveled to another village and continued to shoot.
In just one day, we have already reached approximately 300 children shots by the late evening. That's when I told Fann that why don't we do more instead. So, we decided on stretching the target to another 300, making it to 600 children portraits. We then sent the 300 portrait shots to the photo shop in Siem Reap town for processing. Fortunately, they were really helpful and they helped us to sort out the photos and printed them according to our records. They even helped us to install the photos into the frames. On the next day, we went to collect the framed photos which were packed nicely into boxes. We loaded them into our car and drove back to the villages to distributed them. As we reached the first village, we opened up the boot and they were already children running towards our car. They were all curious and once we told them these boxes contain the photos we took of them and will give it to them for free, everyone were getting excited. One by one, the kids started calling out to their neighbours and more children started to gather around us. We opened the boxes and unpacked the framed photos slowly.
Since there was so many children, it was really difficult for us to track which one belonged to whom. So, we took them out one by one and showed it to them. They would tell us if it belonged to any of them who's around, if it belonged to another part of the village, or if it's one of their siblings or friends that they would help to collect. Everyone was really helpful and they were really patient. What struck me most were the smiles they had when they saw their own photo, framed nicely. That's when my heart was touched the most. Never in my life have I seen that smile and happiness when one has seen their own photo. It was a really a touching moment for me. Even the adults who came to see the commotion was a surprise for me. When the adults saw their own children's photo, they were smiling and I could feel the happiness inside their hearts. A sense of recognition and satisfaction I would never have had from shooting for my clients. It was a priceless and heart-warming moment that words would be hard to describe. We then continued to shoot on the 2nd day and repeated the routine until we reached 600.
In just two days, we've reached our target rather easily but it was extremely exhausting on my part. Working out a sweat was worth it, seeing those smiles just felt so amazing. During our fund raiser, we managed to raise some extra funds. We used the extra money to purchase some snacks and candies, stationery to be distributed to the students in the village schools and also portable water filters. Read more by clicking here.
Challenges
Despite it going almost smoothly throughout the project, there's bound to be some challenges. There are minor ones that we should improve on, especially on our next phase or chapter. It was pretty tricky to record the names of the children due to their pronounciation. Most of these children does not read English, it was difficult for us to write down their names exactly, so we had to spell it out as close as possible. Then, there was the part where some children who were really shy and timid that would be crying when my camera was pointed in front of them. It took us quite some time to get their shots taken. Therefore, some who were really resisting didn't had their photos taken. Since this is our first time doing, one of the main challenges were the distribution of the photos. It was really difficult to track which photo belonged to whom as mentioned above, we had to improve on a better system so that we could make sure everyone gets their photos, especially if the numbers were larger than what we have done.
Water Filters and Stationery
As mentioned above, we managed to use our extra money to purchase some additional items besides the framed portraits. One portion of the money went to purchase 28 portable water filter for as many as 28 families. Each of these water filters can provide clean water for each household for at least 2 years. The rest of the money went over to purchasing stationery for the village schools. We managed to buy 2 books, 1 pencil and 1 pen for every student. Overall, it reached at least 600 students for 2 schools.
So, What's next?
Well, the project isn't over. We have produced thank you cards, postcards and photobooks for our beloved and caring donors. We will share the photos of the items online really soon. Additional books and postcards would help us to raise more awareness regarding this issue and hopefully we can raise more money for our next chapter. We are planning to start a crowdfunding campaign soon as well and we hope that everyone can contribute for this cause.
Our Video & Podcast Interview
Watch our video! Don't forget to watch it in HD!
We are still raising funds and if you would like to donate to our cause, please don't hesitate to email me (reubenteo@gmail.com) or Fann (fannsfy@gmail.com). The instructions would be really simple and safe. Just ask our current donors. We would appreciate it if you share would this amongst your friends and help the children out.
Click here to like us on Facebook and to check out the latest updates: www.facebook.com/MyFirstSelfie