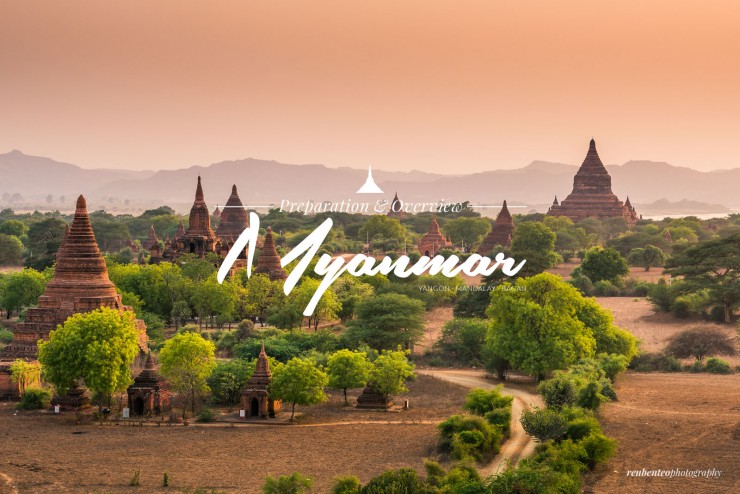 Myanmar, or more commonly known to westerners as Burma is a beautiful country. Like most of it's neighbours in Southeast Asia, Myanmar is rich in culture and diverse in ethnicity due to the migration from nearby countries. The most dominant ethnic group called the Bamar migrated from Tibet during ancient times and founded the ancient capital of Bagan. Shadowed in military control for over 50 years, the country is still a stranger to many. But newfound political freedom has brought a surge in tourism to this once isolated country. However, the infrastructure has still not matured enough to accommodate the large number of tourists to the country. This has caused us to find it rather difficult to get a cheap bed during our stay.
Myanmar also boasts glittering golden stupas, bountiful rice fields, enigmatic ruined temples and picturesque mountain paths. Myanmar is one of the safest countries to visit, due to it's low crime rate and the people are incredibly friendly and polite. They will do their best to make all visitors feel welcome in their country.
Our entire route in Myanmar for 12 days were Yangon – Mandalay – Mount Popa – Bagan – Yangon. We began our journey in Yangon from Kuala Lumpur. We stayed there for one night and managed to capture a beautiful sunset picture of the famous Shwedagon Pagoda. On the next day, we took the long distance bus down to Mandalay. We stayed in Mandalay for 3 days and managed to explore Amarapura and Sagaing at the same time. After grabbing a few shots of it's beautiful sunrises and sunsets, we traveled to Mount Popa Resort by car to rest for a night. After a good rest, we moved to Bagan for a few days to explore the ancient temples. Finally, we took the long distance bus back to Yangon where we continued our journey in the town area where all the colonial buildings are.
When to go Myanmar
Well, Myanmar is almost hot and humid throughout the entire year, but there some weather patterns that you have to watch out depending on the purpose of your trip. Here's an easy break down of the climate changes and peak seasons of the country:
Mid-October to February (Peak Season): The Burmese call this the cold season, but you'll still find yourself plenty toasty, with temperatures in the hotter areas hovering in the mid-30s°C in October, down to 26°C in February. Hotels fill up quickly and rates will be at their highest. Number of airline flights are quite small and book up quickly, same goes to the long distance buses. It is advisable to book everything extremely early.
June to September (Off Season): it is the monsoon season, especially from July to September. It leaves the country drenched, particularly in the western Rakhine State. The problem is not so much the rain itself as the aftermath, when dirt roads become impassible fields of mud. This is certainly the least expensive time to go. Around Pyay and Mandalay, you should be able to sightsee without getting soaked.
March to May (Shoulder Season): These are the months during the year where you have to watch out in which you'll roast if not careful. Temperatures in Yangon can easily top 38°C, with temperatures going even higher in Bagan and Mandalay. I was in Bagan and the highest temperature reached a whopping 43°C during the day and 38°C at night. Still, because it's dry, hotel rates are not at their lowest, especially those with pools.
Preparation
Traveling to any Southeast Asian country does not require much things to prepare due to their consistent weather patterns. Clothes that are cooling would best suit it's tropical conditions. However, there are still some important things to prepare and take note:
Visa – Visa is required for most foreigners even ASEAN countries like Malaysia. You can also get your visa the traditional way at your nearest Burmese Embassy but I would strongly recommend the online option because it's easy and hassle free. All you have to do login to their website and fill in all your information to register. After that, pay a fee of USD50 and they will send you your travel visa in a day or two to your email address. Print that out and you're ready to go. Click here to get your Burmese Visa.
Money – Money usage in Myanmar is a little tricky. There are very few ATMS around the country, so it's advisable to bring as much US Dollars as you can. Most shops in the country accepts the green bill, but only if those notes are in extremely new condition. That means no creases, stains, marks or tears. A little folded or worn and the note is pretty much worthless here. It's advisable to change some of your dollars into local currency Kyat for easy usage and change. Also, the rates would definitely be better when using Kyats for most shops except tourist traps. Here's a tip: If the prices are quoted in USD, pay in USD. If it's quoted in Kyat, pay in Kyat.
Medication – It should be noted that outside of established tourist and top-end restaurants, food preparation is not always up to western standards. You should only drink bottled water. It is advisable to take Dioralyte for rehydration and Loperamide for diarrhoea. Pharmacies in Myanmar are extremely traditional and medication is very expensive there.
Sarong – More commonly known as Longyi in Myanmar, is strictly required when entering religious sites especially for the ladies. Most major temples will have a rental service for these longyis, but if you are afraid of sharing, please bring your own or else just wear longer pants. The rule is to wear something longer than your knee.
RESPECT – I have to stress this very much especially after what have happened lately and throughout my travel experiences where many foreigners have no respect whatsoever to the respective country they are visiting. Try your best to adapt to the local cultures and you will agree that traveling is a very fun experience. Bringing in politics or your "I wanna do whatever I want because I have human rights" crap and taking off clothes in public just makes you look extremely idiotic and disrespectful especially in Asia. When you're in someone else's country, please respect their rules and cultures. When the temple tells you not to wear socks, just don't wear it. If the temple has a nice brick, don't carve your name on it. If you disagree with certain cultures, it is best that you keep quiet and leave or try your best to enjoy the trip and not ruin it for everyone else.
Getting there and around
Plane
There are lots of flights that has access to Myanmar. The easiest path is to get into the country is to arrive at the former capital of Yangon. Malaysia Airlines and Airasia offer direct flights to Yangon from Kuala Lumpur. If you would like to skip Yangon, I would suggest taking Airasia or Bangkok Airways. They offer flights to Mandalay from Malaysia, but you would have to stop in Bangkok for transit. This will save you ample of time and cost as well. As for traveling to other parts of the country like Bagan or Mandalay, flights are readily available but it would set you back a couple of hundred dollars. Flights from Yangon to Bagan or Mandalay is only about an hour and could save you a lot of time if you're there on a short trip.
Long Distance Bus
Getting to Mandalay or Bagan from Yangon is rather easy even if you're not going for the flight option. So, in order to save cost, we decided to take the bus option. Myanmar offers one of the best overnight buses I've ever experienced. The VIP buses takes about 9 hours to reach Mandalay but it costs only about USD20 (18,500 Kyat) one way. Despite saving cost, the overnight buses gives you an opportunity to save on accommodation as well. These buses are extremely comfortable and you will find no trouble falling asleep in these buses. There are a few bus companies to choose from, but we went for the JJ-Express Highway Bus.
Booking the buses was extremely simple. All you have to do is visit their Facebook page here and drop them a message to tell them where you are heading to and when. They will send you a schedule and will ask you for your passport number and name. After that just find your way to go to the bus station when you're in Myanmar to collect and pay for your bus tickets. When you're in Yangon, tell the taxi driver you want to get to the JJ Bus Station and you will reach there without any problems. Please also note that you have to reach the bus station half an hour early. If you're travel form Yangon, the journey to the bus station takes about an hour. If you're in Bagan, they have a special pick up service where they will tell you to wait at your hotel lobby at around 6pm. The bus fare also includes some snacks on the bus and insurance too.
We used the bus service from Yangon to Mandalay and from Bagan back to Yangon. The journey takes about 9-10 hours but rest assured that there will make some stops for snacks and toilet break. On our ride to Mandalay, we were even given some delicious snacks that consists of a red bean cake and a cheesecake. We were also offered coffee or coke to wash it down. You will also be given a nice blanket on the bus which will keep you warm and comfy throughout the ride. If you're traveling back to Yangon, you will also be offered an option for a smaller transit bus that will take you directly to downtown Yangon at the cost of only K500 per person. That saved us a lot of time and money too.
Private Driver
Getting around Mandalay requires a driver or taxi because many of their sights are not within walking distance at all. If you prefer to get a driver on the spot in Mandalay, just make sure you work out a deal with them and make sure their taxi has working air conditioning because you will eventually melt under the Mandalay heat. When we reached Mandalay in the early mornings, our driver came to pick us up at the station. Our driver is called Fatty and he is a very friendly guy. He may be quiet most of the time, but if you ask him any questions regarding the place, he would gladly explain to you. He speaks excellent English and his car is extremely comfortable. He drives a well maintained Toyota Crown. We booked his services to tour around Mandalay, Sagaing Hill, Amarapura. He also drove us further to Mount Popa and then to Bagan. Thanks to him and his careful driving, we felt very secured and had no worry whatsoever. Because he knew that I was there to hunt for the best sunrises and sunsets, he was extremely cooperative in driving me around in the wee hours and sometimes stopping halfway to grab some shots. I would highly recommend everyone who visits Mandalay to contact him for his services. His name is Fatty Ko. You can find his contact on his Facebook page here.
Electric Bike
As a rule of thumb, driving and riding a motorcycle is off limits and forbidden to every foreigner. However, when you're in Bagan, there are a few more options to choose beside taxis and horse-carts. You can choose to ride a bicycle or an electric bike to get around the temples. We tried the bicycle on our first evening in Bagan. Renting a bicycle is only about 1,000 kyat for half a day. Since we reached Bagan a little late, we decided to quickly grab a bicycle and ride it to the Shwesandaw Temple for the sunset.
After we figured that our camera equipment was too heavy and peddling across the plains of Bagan wasn't a very good idea, we decided to take an e-bike for our remaining days in Bagan. It was tricky at first, but we managed. The most challenging part was that Myanmar roads are on the right hand side, which gave me a disadvantage. I also had trouble balancing everything sometimes. I had my camera gear, my wife's camera gear and my wife on it, so it was quite a challenge. We fell quite a few times during the ride, especially when we were riding into some temples where their roads had soft sand. The e-bike was too heavy and it gave up momentum resulting in a fall. It is advisable to take one e-bike per person because it would be lighter and easier to balance. But most of the time, it was really fun to ride on it. We could move much faster than a pedal bike and we could visit some temples that were further away without problems. We even used it to ride to our favourite Bagan restaurant called Queen Restaurant, located near Bagan Umbra Hotel.
The e-bike (electric bike) costs about 8,000kyat for a day of 8 hours. Although an e-bike could fit two, K8,000 would be for per person. So sharing an e-bike would be K16,000. Since Fann can't ride a bike, we decided to go with this option and they gave us a deal of K15,000 instead for the entire day from sunrise to sunset. The shop we went to is located right outside the Bagan Thande Hotel. There are two different shops outside the hotel, please get your bikes from the shop that you will see first when you are about to enter the hotel gates (or 2nd shop if exiting the hotel gates). The lady at the shop who rented us her bikes was super friendly. Since we rented her bikes almost everyday, we became friends. We gave them some Malaysian snacks as a token of appreciation and she gave us their famous Tamarind Sweets.
Taxi
Without doubt, traveling to any country would require at least one or two rides in the local taxi. As a traveler who has been to quite a few Southeast Asian countries, it is widely known that taxis are the most notorious when it comes to overcharging their foreign customers, especially in Malaysia and Thailand. Fortunately, in Myanmar things are rather different. Taxis here do not use meters and their meters are usually nowhere to be found inside their vehicle, but rest assured that the taxi drivers here are very honest and friendly at the same (at least all the ones we've met in Yangon). Traveling around Yangon in a taxi is extremely easy and cheap. The only thing to take note when bargaining with a taxi driver is that you may get a small discount and only to find that they have their air conditioner switched off. The taxi driver that took us to the Yangon airport on our last day was super friendly, he spoke little English but he tried his best to tell us all the sights we passed by while en route to the airport. He even offered us some local magazines to read and to bring home. He was really nice.
Where to stay
Finding the right place to stay is not difficult. There are many choices to choose from and are made to fit most budgets. However, do keep in mind that the quality and standards offered by the hotels may not be the up to par with the amount you are paying for as compared to most Southeast Asian countries. In comparison, Myanmar accommodations are still considered slightly more expensive due to the shortage of hotels there. Nevertheless, it's still worth every penny you pay for just to visit this unique country. Last but not least, when choosing a hotel to stay, please make sure that it is licensed to foreigners (So, probably Airbnb isn't such a good idea for Myanmar at the moment). Also, the internet is unstable and unreliable at times there; if you contact a hotel directly by email and have not had a reply within 48 hours, try again later.
One of the great things about the hotels in Myanmar is that most of them allow you use the facilities like the shower and baggage storage after check out, especially when you have a late bus or flight. This allows travellers to not waste any time and not worry about their belongings before heading back to the hotel for a quick shower then heading back out to catch their next transportation. Here are the list of accommodations we stayed in during our trip with some brief information. I hope these choices are helpful to you.
Yangon – Thanlwin Guesthouse
Situated in the quiet neightbourhood of a housing area, this guesthouse offers one of the best places to relax that has a homey feel. It's near to the Inya Lake where you can take morning walks and grab a glimpse of a beautiful sunset. There are no restaurants within walking distance but you can grab a taxi easily and head out to grab something to eat. Rooms come with attached bathrooms and shared bathrooms. A 15-minute drive will allow you to reach the downtown area of Yangon where the Sule Pagoda sits. It has free breakfast and WIFI too!
Contact them at: http://thanlwinguesthouse.com
Mandalay – Smart Hotel
It is a new small and simple hotel situated near the Mandalay Palace. It has 7 floors and rooms of all sizes. The rates range from USD35 to USD100. We stayed in the superior room. It wasn't big but at least the bed was comfortable. The people at the helpdesk were extremely helpful and they allowed us to check in early when we reached the hotel very early in the morning from the bus station. One of the best features of the hotel is it's Sky Bar where you can enjoy a beautiful sunset of Mandalay while sipping a cold Myanmar Beer. They offer free Breakfast and WIFI too.
Contact them at: http://smarthotelmandalay.com
Mount Popa – Popa Mountain Resort
This resort was the most expensive one we stayed throughout the trip. I booked this resort for us to take a break from all the intense sunset and sunrise huntings. Also, it was a treat to my wife since it was her birthday. They even surprised her with a birthday cake in the fridge. The resort is situated on the mountains of Popa where you can have a scenic view of the Taung Kalat Monastery that is oddly constructed atop a hill. I managed to capture a shot of the beautiful sunset that was offered right in front of our room's balcony. The place was extremely quiet and it was indeed a great place to relax and free your mind. The free WIFI can only be used in the hotel lobby but they offer one of the best breakfasts to start your day.
Contact them at: http://www.myanmartreasureresorts.com/location-5/popa-mountain
Bagan – Bagan Thande Hotel
Located inside Old Bagan, this hotel has a rich history and a lot of character. They are one of the nearest hotels to the Shwesandaw Pagoda, famous for it's sunrise and sunset. Due to it's strategic location, the hotel is slightly above average price in Myanmar. The hotel is also situated next to the Irrawaddy River facing west, where they offer an outdoor restaurant and viewing area for guests to enjoy the magnificent sunset. The rooms are like small cottages and is surrounded by beautiful greens. The conditions of the room was pretty good and the air-conditioner was extremely cooling. They offer swimming pools, spas and also bike rentals at reasonable rates. The bad thing about the place is that there aren't any restaurants nearby. A car or e-bike is required to get to the nearest restaurants. They offer free WIFI and breakfast buffet as well.
Contact them at: http://www.baganthandehotel.net
Yangon – Clover City Centre
It is my favourite budget stay in Myanmar. Located just next to the Sule Pagoda, it is walking distance to many sights, restaurants and also the Bogyoke Market. Street food vendors are also everywhere in this area. The staff were extremely helpful and the rooms were super clean. Since it was so strategically located, we could go out a few times a day and come to the hotel for a rest again and again. The bathroom was a bit small, but for the price I paid I was very satisfied. Breakfast is optional and WIFI is free. They are a chain hotel and they have 2 other branches called Clover City Hotel and Clover City Center Plus which offer higher end accommodation.
Contact them at: http://www.cloverhotelsgroup.com/index.php?a=subhotel&hotel_id=1
What to eat
Burmese food is a blend of Chinese, Indian and Mon influences. When people ask me about how their food tastes like, I'd often tell them it falls into something similar between a mixture of Thai and Indian food. Of course, with it's diverse cultures and people, food often comes in many forms and flavours. Here are some of the local food we've tried out during the trip.
Mohinga
This is the most famous Burmese food especially when you're doing your research online. Search for Burmese food and out comes Mohinga. Unofficially the national dish of Myanmar. It is rice noodle served in fish based soup. It often comes with a choice of fried fritters to give it an extra crunch while sipping the delicious soup. The dish is seasoned to taste with a squeeze of lime and/or flakes of dried chili. It is a breakfast dish and you can find these by the road sides of Yangon in the mornings. A simple but satisfying dish. One of my favourites too.
Shan Noodle
The ethnic Shan are the second biggest ethnic group in Myanmar after the Bamar. Since the state of Shan borders China, their food are largely influenced from the Chinese. Making this an easy target for me to enjoy. Shan noodles comes in a varieties of versions, soup-based, dried, grounf pork or chicken, etc. Also similar to most Myanmar dishes it comes with onions, chili and crushed peanuts. One of the best Shan Noodles can be found in a shop called 999 Shan Noodles in downtown Yangon (very near to the Sule Pagoda).
Burmese Curry
Curries in Myanmar are milder but extremely oily. By cooking curry with lots of oil, it breaks down ingredients' harshness like chilis or ginger. Some of their curries are sweet while others are mostly spicy and salty. There are tons of choices to choose from such as fish curry, mutton curry, pork curry and many many more. There's also eggs and shrimps which is not to be missed. Usually it comes with some salad and side dishes like mushrooms and beans to help soothe the curry inside you. When ordering curry, it is wise to not choose too much because it can be very fulfilling.
BBQ Sticks (Satay)
Similar to satay from Malaysia, these sticks of goodness can be found right in the heart of Yangon's Chinatown. These delicious beauties are not only affordable but also filled with tons of options. Ranges from vegetables, meat, fish and many more. One of my favourites are the grilled squids. Not only are they fresh, they're also a fantastic way to end your night in Myanmar.
We saw Aung San Suu Kyi's house from across the lake. Stay tuned for more.