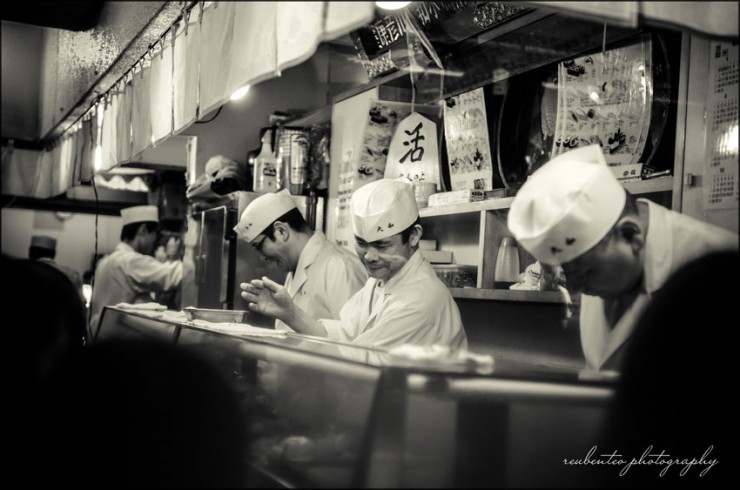 One part of Tokyo comes to life before dawn and that's Tokyo's iconic Tsukiji Market. Part of our itinerary was to visit this awesome market and have the best sushi in the world. Tsukiji Market, or formally known as Tokyo Metropolitan Central Wholesale Market, is nevertheless the largest wholesale fish and seafood market in the world . It's also one of the largest wholesale food markets of any kind. It handles over 2,000 tons of marine products per day. The Tsukiji Market has been a national landmark to all at it's present location for nearly 75 years. Despite it being so old and run down (in Japanese standards, but extremely new and clean in Malaysian standards), it draws in more tourists each year.
Tsukiji Market is now being planned to be relocated to a new site. Initially, it was planned to be moved by 2013, but oddly enough, it has been delayed to around 2014. The new location for the Tsukiji market is in Toyosu, Koto Ward. However, the soil there was found to be contaminated costing the Tokyo government nearly 58.6 billion yen to clean up. Now, the government discovered new contamination around 10 meters below ground, making additional work necessary that wasn't prepared for. The total cost of relocating the famous market is said to be a whopping 390 billion yen, and the 40.7 hectare site will include new buildings for the market and wholesalers' shops, along with an additional fruit and vegetable market, and tourist facilities.
If you see this while passing by from Tsukiji Station, you're in the correct direction
Located near the Tsukiji Station on the Tokyo Metro, we departed from the Iriya Station which coincidentally was also on the same Hibiya Line. It took us only about 15 minutes to reach Tsukiji Station. Alternatively, you can also reach the market by going to the Tsukiji Shijo Station on the Oedo Subway Line. Once you have reached Tsukiji Station, just take Exit 1 and 2 which is at the south side, which is nearer to the market.
The market consists of an inner market where most of the wholesale business and the famous tuna auctions are taking place, and an outer market whose retail shops and restaurants cater to the public. A few restaurants are also found in the inner market. What amazes me is that, this fish market has no fishy smell and is extremely clean .You can also look for sushi places near me to know more about other fish products that they use.
One of the main reasons that foreigners visit the market is to experience the tuna auction. However, the number of visitors to the auction is limited to only 120 per day, the maximum number which the market's infrastructure can accommodate. Tourists who wish to see the auction, have to apply at the Osakana Fukyu Center (Fish Information Center) at the Kachidoki Gate, starting from 5:00am on a first-come, first-serve basis (may start earlier on busy days). A first group of 60 visitors will be admitted to the auction between 5:25 and 5:50, while a second group of 60 visitors will be admitted between 5:50 and 6:15.
Unfortunately, the tuna auction is usually closed to tourists for a few weeks over New Year (most recently between December 1, 2012 and January 19, 2013) to ensure a smooth and accident free course of business during that busy time of the year. Therefore, Fann & I didn't get to experience it.
But not to worry, as we had another trick up our sleeves. If we couldn't go to the auction, then we must try one of the best sushis in the world. Afterall, it's been said that no visit to Tsukiji is complete without a sushi breakfast. According to our researches, there are two stores in Tsukiji that sells the best and freshest sushis. In order to find these sushi restaurants, walk in from the gate, with the fruit and vegetable market on your right, pass the off-limits loading zone (with its stacks of polystyrene boxes) and turn left at the main road. Walk three short blocks, then turn left again down a small side street.
One shop is called Sushi Dai. It's claimed to be the best in Tsukiji. If you want to try this, be prepared to queue for about 2-3 hours. It's the 2nd shop on your right. You won't miss it because if you see lots of people queueing, then you've come to the right shop.
That's Daiwa-Zushi. Try to find Fann!
Further down the same lot, you will see Daiwa-Zushi. There, you can also see a long queue and their sushi is just as good. That's the shop where we settled for. The queue wasn't as long as Sushi Dai's. Amazingly, this Daiwa-Zushi's shop is managed by the son of Sushi Dai. Apparently, they are competing with each other to see who serves the best sushi in Tsukiji. Quite funny but who cares, as long as they serve fresh and super sushi, one cannot simply complain. The reason why the queue moves faster, is because Daiwa-Zushi has two shoplots, hence it moves faster. Also, many kiasu people are queueing at Sushi Dai. Shhh~
We queued for about 40 minutes just to get in. We were so relieved. The place was extremely small. Only about 12 could be seated. Once you're in, please order quickly and no chit chatting, because you're here to eat and there's hundreds of people out in the cold waiting for your seat. Finally, it's our turn to order. We ordered the famous set menu which consisted of seven nigiri pieces, six maki pieces, a miso soup and comes with hot tea for a price of ¥3500. In order to keep the raw seafood at it's freshest, the chefs at Daiwa only cuts up and prepares two pieces per time. Here's a list of the sushis we had in the menu:
Ikura (salmon roe) and Maguro (tuna) maki, Tamago Yaki (Egg) and Uni (Sea Urchin) Nigiri
Toro (fatty tuna) nigiri. Extremely delicious and melts in your mouth
UNAGI (eel), favourites of many
Last but not least, Mackeral
After finishing up the delicious sushi set menu (look at this site for the complete description), B asked if I wanted try the Tuna Belly or not. She wondered why it costs ¥800 for just one piece of Tuna Belly Nigiri. I was shocked. At first, I was pretty reluctant to try, but after thinking about the entire process of waking up so damn early, queuing for a mere 45 minutes and B's adorable eyes staring at me, I told myself to just go for it. Not only will I finally understand the mystery of why it costs that much, also it will make this lovely girl beside me the happiest in the world. We ordered two tuna belly nigiris and had our fingers crossed. It came and it looked damn fine.
That nigiri that costs ¥800 each
We picked up our chopsticks, dipped the bugger in some wasabi and soy sauce, and took the first bite. OH MY GOD! I never knew the best sushi was actually in my mouth! It felt like heaven! The tuna belly was the best ever tasting raw fish I've ever eaten in my entire freaking life. That heavenly feeling costed me ¥800 but it was well worth it. After savouring it, I looked at B as she was enjoying every bite of it.
Before she could take up the menu again, I quickly took her hand and rushed to the cashier before she could order anything else. We left happy but I still felt it was pretty expensive. If you asked me if I would return? Well, I would. It has really lived up to it's name and it's really the best sushi I've ever tasted in my life. No kidding. Now, I feel awful because wherever I eat sushi elsewhere, it won't compare to the ones here.