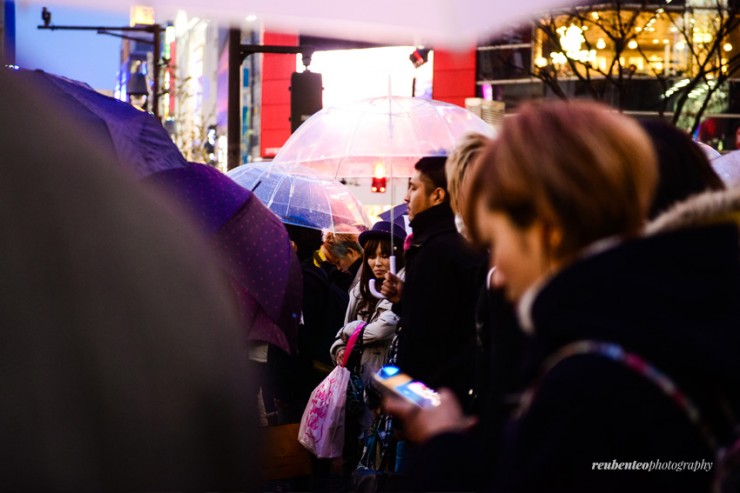 "Ame ga furimasune!", which means It's going to rain! is what you will hear when you are walking in the streets of Japan when it starts to drizzle. June to July is the rainy season, or "Tsuyu Baiu" in Japan. The cold winds out of Siberia float over the warm Pacific waters and their love making produces rain. During our 2 weeks plus trip to Japan, we encountered a couple of rainy days. The odd part was, we were thre during winter. Anyhoo, during the rain, we were able to see the Japanese holding their umbrellas and the scene is just so beautiful. For the best Customised Umbrella Singapore, do visit us.  You know you are in Japan, when most of the people are using plastic clear umbrellas (just like in the movies). When I am home I use personalized umbrellas by ibrollyumbrella.com which I think are a tad bit more stylish.
Shibukasa
"Shibukasa" is an umbrella rental system which started in Shibuya back in 2007 by a social project team called Symbol of Life (SOL). Due to all plastic umbrellas left at konbini or on the streets without owners, it was really wasteful because thereafter they would all be thrown away. Therefore, Shibukasa collects umbrellas that are no longer used, or were forgotten, and places them at one of 42 shops — which can be identified by a sky-blue umbrella logo — in Shibuya. Borrowers can use these umbrellas for free, and people who return them get Earth Day Money coupons (50 yen if not mistaken), which is accepted at some establishments in the ward. There are similar services available at Kansai Airport, Hiroshima city and Kanazawa city.
Shibukasa — a portmanteau word combining Shibuya and "kasa" (umbrella)
Here is a collection of the photos I managed to grab during the drizzles.