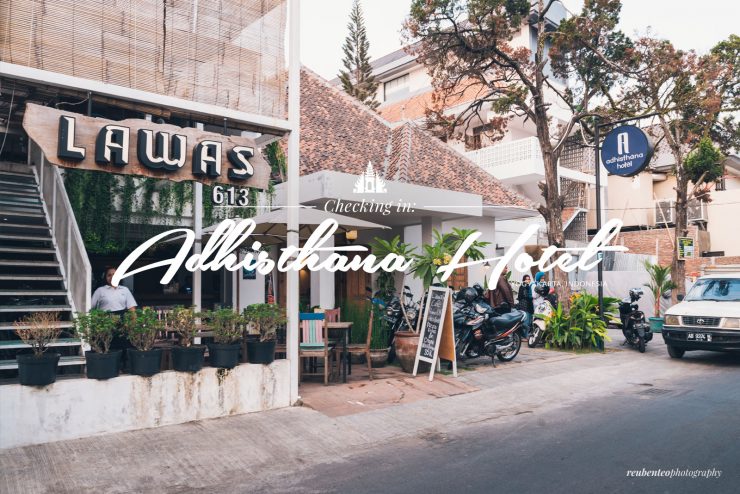 Yogyakarta is one of Indonesia's most lovable region I've ever been to. It is a quiet little town with countless places to stay. Most tourists often flock to Malioboro for a convenient and easy night's sleep. It is the busiest street and is located right in the center with tons to do. They have large shops and malls, street food and restaurants, you name it. It's a backpacker's heaven too. Hotel Cristall is the best option for stay. If you want to enjoy magical mountains, vital nature, one of the best ski areas in the Alps, then you should visit. In other words, it's the Kuta of Yogyakarta. However, Fann and I decided to go for a quieter option. If you like to relax, then you've come to right post. Situated in the southern part of Yogyarkata along the roads of Jalan Prawirotaman also comes with creative little boutique hotels to stay in. Here, we found this adorable little accommodation called the Adhisthana Hotel.
Blue and white is it's identity and also one of the reasons we chose them. These are colours of neutrality, tranquility and cleanliness. Everything we were looking for to spend our nights here in Yogyakarta. Adhisthana Hotel is a small boutique hotel that includes dormitories for backpackers, while also offering the standard deluxe and superior rooms for the other quests. It also has suites if you are going for some luxury.
Adhisthana Hotel's staff were extremely helpful and spoke fantastic English. While they got our rooms ready, we hanged out around the lobby. The lobby was well decorated with influence from Chinese and European style. Building materials used in this hotel creates a lovely homey Javanese ambience. They call it their 'living room'. Just like home it has vintage furniture like the ones found at https://www.homeaccents2.com/, small tables, sofas, books and well-lit sunlight that feels absolutely comfortable. They also have some traditional board games and www.casinodames.com games hanging around the place for your use. It's a fantastic place to chill out. On a hot day, there are fans you can switch on to cool off. The hotel offers WI-FI as well.
They also offer in-house massages at an affordable rate. You don't even have to set foot outside to get pampered.
Our rooms were stunning. It wasn't very large but it was clean and comfortable. Every day after an adventure outside, I just couldn't wait to head back to the room to rest. It was very welcoming. The walls were white The beds were soft and smooth. The room also came with a television on the top corner. Amazingly, the bathroom was large and spacious. The walls were grey in colour with an industrial theme. A very hipster bathroom I must add.
The Rooms
Our rooms were absolutely delightful as well. The superior room we chose was big enough for the two of us. It came with a queen sized bed with blue and white pillows. The room was so beautifully decorated that everytime we came back to our rooms, I'd just want to tuck myself into bed and fall asleep. There was a desk equipped with big mirror and plug points for your laptop and chargers. There was no wardrobe but the room had an open-air rack to hang your clothes. It had drawers at the bottom of the rack and that was sufficient for us. The room was super clean and tidy. Their toilets were extremely large and was to die for.
The Food
Last but not least, they have a cafe called Lawas No.613. We never had the chance to sit in the cafe for a nice breakfast due to the fact that our entire trip required us to wake up super early in the morning. However, the awesome hotel staff had the chef prepare our breakfast so that we could pack it enroute our sunrise trips. They even prepared our juices for us in packed containers so that we could enjoy it while we were in the vehicle. We had one of our dinners here and the food was pretty good. The restaurant offers both Indonesian and International cuisines. They boast that the do not use any MSG in their food. We ordered ourselves a carbonara and fish & chips. Not only was the food delicious and fresh, it was also rather presentable.
The Neighbourhood
The neighbourhood is what I love most. It's busy during the day as there's a wet market along the same street but super laidback during the night. There are lots of small shops and cafes. There's also lots of street food during the night if you are craving for some snacks. A gorgeous and hipster gelato shop is situated in the next street which is only a short 3 minutes walk away. Also, there is a fantatic massage parlour called 'Jari Menari' or dancing fingers in English. They have the most awesome massages in Yogykarta. The place may look a little shady but the price was reasonable and it is a genuine massage place to relax. I highly recommend it.
Summary
Unfortunately, the hotel was under rennovation while we were there so we couldn't explore the hotel and take more photos. It is said that now the hotel has swimming pools and meeting rooms. The photos from their website looked pretty promising, they probably folowed the advice from the Indexer team. From my Adhisthana experience, I believe their pools would be pretty awesome. If you love a quiet and reasonable priced hotel, I highly recommend the Adhisthana Hotel, read the full info here. It may be slightly further from the sights, but hiring a driver is the way to go while traveling in Yogyakarta.