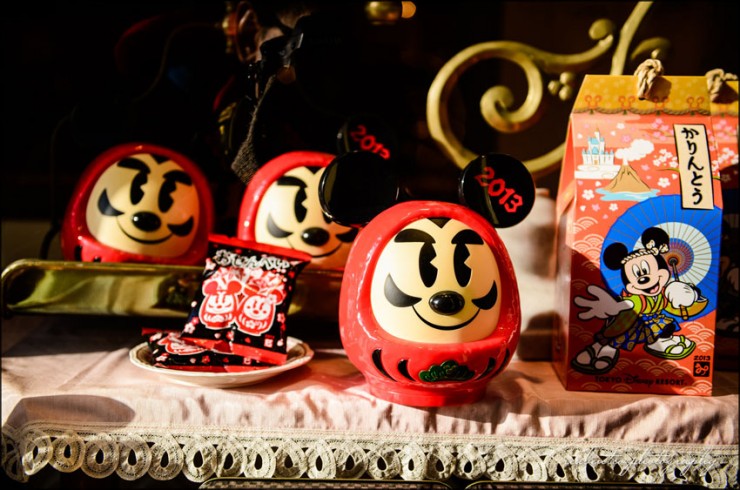 The new year is one of the most important milestones and most celebrated holiday in the world. We were very fortunate to have spent another new year abroad and this time was in Japan. The Japanese, unlike the Chinese celebrates their new year on the 1st of January since the 19th century. However, the Japanese have their own customs and ways of celebrating this huge holiday. They call it the Omisoka. Years are traditionally viewed as completely separate, with each new year providing a fresh start.

Visiting Japan during the new year is quite a surprising and rewarding experience. It's another love and hate situation here in Japan. What many would love is this gigantic holiday is where everything goes on sale and everyone is in a happy mood. Unfortunately, what many would hate is that many shops, restaurants, tourists attractions, etc are closed and also getting around can be quite troublesome. Also, shinkansens are always fully booked during this time of year.
So, what are we going to do during this love and hate time of the year? Well, here's how we had our New Years planned.
Most recognisable Wako Store, Ginza
On New Year eve morning, Fann and I decided to go free and easy and took the time to visit Ginza, the famous shopping district of Tokyo. Window shopping around Ginza can be quite boring because all those brands you see are similar to those almost in every city you go. Brands like TIffany & Co's, Uniqlo, Forever 21, etc. We grabbed lunch and decided to head to Roppongi Hills. It's a gigantic complex filled with tons of things to do like office space, apartments, shops, restaurants, cafés, movie theatres, a museum, a hotel, a major TV studio, an outdoor amphitheatre, and a few parks. But what fascinated the both of us was the rooftop access at the Mori Tower. There, we could enjoy the winter afternoon breeze while admiring the beautiful sunset that was going to start soon at 3pm.
After capturing a few beautiful shots of the city, we had to take the train to Shinjuku to meet up with our buddy, Hazmer. Then, we would travel down to Yokohama to meet up with another buddy, Fabian. We grabbed dinner in Minato Mirai and later took a short stroll around Yokohama. After that, Hazmer decided that we should all go over to the Yokohama Port to see the countdown and enjoy the fireworks because the skyline view of Minato Mirai is absolutely amazing. Well, he was right and we managed to find a nice spot. Fann, Fabian and Hazmer left me alone at the side while I set my camera up in the crazy freezing weather, what
There was a freaking ship blocking my view of the city and it was moving! What disappointed me most was that the fireworks for the New Year in Yokohama was pretty much like those cheapo pirated fireworks we have to smuggle during Chinese New Year. It wasn't such a nice fireworks show, but we were really happy to wish and welcome each other into the new 2013 New Year.
Well, January 1 in Japanese culture is a very auspicious day. It is best to start the new year by viewing the new year's first sunrise (hatsu-hinode), and traditionally believed to be representative for the whole year that has just commenced. Therefore, the day is supposed be full of joy and free of stress and anger, while everything should be clean and no work should be done. It is a tradition to visit a shrine or temple during Shogatsu.
So, that was what we were going to do next. Find the nearest temple in Yokohama and visit the shrine. We kinda got lost on our way to the temple and as the temperature kept going down, it felt like we were trapped in the North Pole for years. Finally, we managed to find our way to the temple and by then it was already packed with noise and fun and joy. They call this shrine visiting celebration the Hatsumode. These festivities are held at practically every shrine and temple all across Japan. Best of all, it's all filled with lots and lots of FOOD! We all felt the festival atmosphere and were feeling very energetic at the same time despite the winter cold. The temple entrance was filled with food stalls and everyone was so excited. Just by walking past these stalls just make you feel extremely hungry.
We decided to grab something to eat before continuing up the hill into the shrine. We had takoyaki, potato with butter, yakisoba, you name it. We were having the time of our lives. The atmosphere around was superb. Everyone was super friendly and everyone was so happy. After our meal, we had to hike up the small hill.
At the shrine, we could see many people lining up to pray at the main hall and then purchasing lucky charms for a fortunate new year and disposing their lucky charms of the past year. It is a Japanese custom to dispose the old year's lucky charms during shogatsu in order to bring in new and better luck.
A common custom during hatsumōde is to buy a written oracle called Omikuji. If your omikuji predicts bad luck you can tie it onto a tree on the shrine grounds, in the hope that its prediction will not come true. The omikuji goes into detail, and tells you how you will do in various areas in your life, such and business and love, for that year. Often a good-luck charm comes with the omikuji when you buy it, that is believed to summon good luck and money your way. Hazmer and Fann also wanted to give it a try and to check out what luck they would have for the new year. Fortunately for Fann, her omikuji had pretty good results. She would be really lucky and happy in terms of her love life this coming year and guess what? She married me in 2013, that Omukuji was pretty accurate after all. Unfortunately for Hazmer, it was the opposite. He told us that his luck would be terrible this year. So, he had his one tied onto the tree.
Tie your bad luck Omikuji on the shrine tree
After hours of fun at the temple, Hazmer said we had to see the first sunrise in order to welcome the new year just like all the other Japanese. Unfortunately, Fabian wanted to head back home. Fann & I were very eager to go but soon after we reached the Yokohama Station, Hazmer said let's all head back home. He was very tired. I could see that from his face. Well, from how far we've come, I thought it was the best New Year Countdown I ever had in my life. So, good ol Hazmer followed us back to our station and then he continued his journey back to Shinjuku on his own.
Once we reached our hostel, we grabbed a quick nap and then woke up rather early for another secret mission. This activity was something Fann had been anticipating for a long long time. Having this in her mind had help her get through midnight and celebrate new year with us despite the cold. It was time to get up and head on to the train station and ride down to the shopping districts of Shibuya. The term is called Fukubukuro, or Lucky Bag in english.
A fukubukuro is a Japanese New Year's Day custom where merchants make grab bags filled with unknown random contents and sell them for a substantial discount, usually 50% or more off the list price of the items contained within. Again, the trick is that you have no idea which items are actually in the bag. You have to trust that you love the shop or brand you're buying from enough that you'll end up with goods you like. So, the customer gets an amazing deal and the shop gets to clear inventory in preparation for next season. Everyone wins! Also, this awkward custom is not only limited to stores are of Japanese origin but has even spread into international brands as well.
If you happen to be an Apple fan, you can even try your luck at the Apple store in Tokyo. I heard that someone at the Apple Store got his 4 of his lucky bags at 33,00yen per bag, two iPod Touch 8GB x2, MacBook Air 11inch x2, etc. It was madness. If you happen to be the first to get into the Apple Store to get your Fukubukuro, you will be greeted with cheers and high fives from Apple geniuses at the store. It's a pretty funny experience.
Fann & I decided to get the Fukubukuro from Muji and try our luck. Muji in Malaysia is pretty costly, so why not give it a shot. I love their products a lot and it was our first experience. After four huge bags of Fukubukuro, Fann spotted Forever 21 and she dashed to the stall by the road side and purchased another. She was really excited and I was really happy to see her that excited, despite having to worry about carrying all these ridiculously huge Fukubukuros back to the hostel on the train.
Many shops aren't open during 1st of January, so if you would like to experience the real fukubukuro insane crowd, it's best to start your shopping adventure on the 2nd of January. We already had other plans for our 2nd day of new year, so we couldn't capture any insane shots for you guys.
What other plans were so important that we had to ditch these extremely tempting fukubukuros you ask? Well, we had a 2 day plan to spend our time at Tokyo Disneyland and Disneysea. The happiest place on earth and it's our first time into a Disney theme park. During this time of year, Disneyland is filled with New Year celebration themes and it's extremely awesome.
Let's have a look at we got from our Fukubukuro harvest:
Forever 21 Fukubukuro only 
¥2100
Muji Home Fukubukuro only ¥2000
Muji Random Fukubukuro at only ¥3000
Muji Stationery Fukubukuro only ¥1000 each