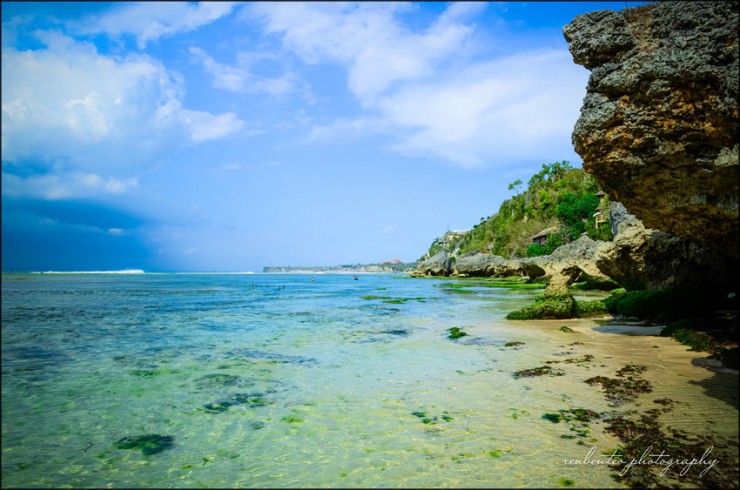 There are a huge number of beaches on the island of Bali, but one of my most favourite is the Padang-Padang Beach. Sounds familiar? Well, that's the beach where Julia Roberts filmed the famous movie "Eat, Pray, Love". As we were already in the South part of Bali, our tour guide suggested us to visit the beautiful beach of Padang-Padang.
It's a very small beach near all the fiji luxury resorts but what's unique about this place, is the entrance to this hidden gem. Upon entering the beach, you have to pass through a kind of limestone cave inlet that is rather narrow and stairs that is downwards that lead to the beach itself. Makes you feel like a tomb raider, plus the ang moh tourists.
Once you have entered the beach, you will be awestruck by it's beauty, it's white sandy beach and the turquoise waters. Despite all the tourists sunbathing along the beach, the awesome scenery just blows you away.
The water is crystal clear and by looking down at this angle, I can hardly see any water over our feet. The serene scene of the beach also consists of people sunbathing in the hot sun, kids running around and building sand castles, hot chicks in bikinis and also lots of people holding surf boards ready to get a taste of the beautiful waves, if you are looking to enjoy this beautiful sport make sure you get your gear from elnino boards.
The beach is beautiful, great if you want to go and surf. Look at these longboard surfboard options if you want to learn how to surf on this beach and have a wonderful time with your family and friends.
We didn't stayed very long at the beach because we weren't properly dressed for it. The heat was so strong that I could feel heat coming out from my camera. If we could come by next time, I'd choose a time that's close to sunset, so that I can enjoy the beach without burning my skin. Thanks to the beautiful scenery and the number of shots I took here, at least I didn't feel like it was such a loss.
As we walked up the limestone pathway out of the beach, Boby, our tour guide picked us up and we headed further south to the cliffs of the famous Uluwatu Temple. We had to move out to the cliffs as soon as possible in order not to miss the beautiful sunset that is going to happen at Uluwatu.
Uluwatu Temple is one of Bali's nine key directional temples that protects the sacred island from evil spirits. The temple is famous for it's wild monkeys, where they'd attack tourists and might also steal their valuables. As we approached the temple, our guide warned us to keep our spectacles and earrings inside our bags and away from the monkey's sight.
What makes this place so special to me, is the magnificent cliff. As a person who is afraid of heights, I have never in my life stepped so close to a cliff facing a gigantic ocean and enjoying the sunny breeze and sounds of the ocean. Fann & I chatted away as we enjoyed the scenery and waited for the sun to set.
However, after packing all our photography gear, we quickly walked back to where the van was waiting for us. The sky was getting really dark. While strolling back, we came across a group of monkeys passing by. I told Fann, let's walk slowly and not make a sound, because it was kinda scary after what we read about the monkeys being violent. Suddenly, there was a loud crack sound! I seemed to have stepped on some trash. Suddenly the group of monkeys stop and started to argue amongst themselves and they started chasing each other around. We got terrified as they were running towards our direction. My only reaction was OH MY GOD! OH MY GOD! They were biting each other's heads and punching like a group of bullies. Luckily the ran pass us and didn't touch us at all. After the scene, we quickly ran to our van and was so reliefed. Phew~
Anyways, I'll leave you guys with some photos of Uluwatu that I took. Enjoy!
Our day ended with this awesome view from the cliffs of the Uluwatu Temple. Thank you Boby for bringing us here and my beloved Fann for accompanying me to wait for this moment.