After Buzzfeed's somewhat unclear post about Aram Pan's aircraft photos, it's quite obvious that many people have come to the attention of the national carrier of North Korea, Air Koryo. First of all, Aram Pan's photos are amazing and so is Air Koryo, but Buzzfeed's post was a little bit out of context and might have painted a different picture to the public. Just to clear some of the air here, the photos Buzzfeed shared are actually from the smaller jet that is used for domestic flights (eg: from Pyongyang to Samjiyon), NOT THE ONE used for international flights as misled accidentally by Buzzfeed (which showed the first picture to be a flight from Kuala Lumpur to Pyongyang). Why do I know this? Well, it's because I was on the exact same flight to Samjiyon with Aram Pan and the featured image in this post is the exact same plane he took photos of. He was with the big group from the Aviation Enthusiast Tour by Juche Travel Services that chartered the flight and my group of only 6 people were added onto the same flight list to visit the sacred Mt Paektu near the Chinese border. All I'm saying is, it could have been made clearer in Buzzfeed. Now, before we get into some details of the airplanes, let's start off with a little information on getting into the mysterious country of North Korea.
How to get to Pyongyang?
Many of my friends and family thought that North Korea is not open to tourists and they were extremely shocked when they found out where I went. Their first questions to me were: "Can go one meh?" Well, answer is definitely yes, because I just came back safe and sound. Then comes the questions of how and what to do next. Easy, here are some tips that I think is short enough to answer:
You can't go on your own, so find an authorised travel agent that offers tour packages to North Korea
Your travel agent will help you to apply for a tourist visa (Fortunately, Malaysians do not require any visa but just fill in a permit form for approval from the North Korean government)
After a few months, you will get your approval
Choose your starting point (currently only Beijing, Shenyang & Vladivostok offer scheduled flights)
Fly to the city you chose and then transit to Pyongyang by flight and meet your KITC tour guides there
TA-DA! Pay respect to the leaders!
Of course, before leaving for Pyongyang, there are some rules on things you can and cannot bring into the country, especially books that are critical of the DPRK and also religious publications of any sort. Also, there are some things you have to bring along, for example formal clothes and tie, torchlights, cameras, medicine, etc. All of these rules and tips will be reminded by the travel agent right before you leave. Make sure you follow the guidelines and double check the list again and again in order to avoid any unnecessary trouble and mishaps. Oh, and good news for tech geeks like me, tourists are able to bring in smartphones, laptops and tablets, but you won't be able to get any wifi or internet there.
Flight to Pyongyang
So, what kind of aircraft did we take into Pyongyang? Well, it's definitely not the one shared by Buzzfeed that's for sure. Introducing the international flight aircraft used by Air Koryo. The Tupolev TU-204-100! It may be a Russian plane, but it looks very clean and comfortable. The interior looks more or less like the Boeings and Airbuses I've taken. The TU-204-100 jet came into service around 2008, they also have the TU-204-300 jet in their fleet. Although it may not have the international star ratings, but I'm sure it's still much better than Air Asia. It's also important to note that the TU-204 jets at Air Koryo are fitted with the necessary equipment to comply with mandatory international standards.
For your information, the flight from Beijing to Pyongyang takes only about 2 hours, but if you choose to go by train, then that will take you about 20 hours from Beijing to Pyongyang, crossing through border city Dandong of China. The flight from Beijing to Pyongyang was quite comfortable. On the plane we could get ourselves some copies of magazines to keep us company. Also, they will be playing their safety video through the built in LCD screen in the cabin. During the flight, they will play some North Korean movies or cartoons but I never really paid attention because I was too happy enjoying every single detail of the plane. To be honest, I was quite amazed with the aircraft as I didn't expect it to look so new and clean. I was expecting something that was old and rusty as if it's from the Soviet-era. But I guess I was wrong and everything seemed okay.
Then came the refreshments. We were served this burger and a choice of North Korean beer or soft drink. The burger wasn't good at all. It was cold and hard. The chicken patty in it felt like rubber and it wasn't appetising at all. Despite the complains, I finished the burger. But when they gave me the same meal on my flight back, I couldn't look at it again. Since I was allergic to alcohol, I tried their soft drink. It was okay. Not the best one but it was much better than the burger. If you happen to go to North Korea, please do try their beer because everyone I know who went there said their beer was delicious and super.
In Pyongyang
We reached Pyongyang on time that day. It was a beautiful day and it looked great for photography. When we reached, we were then transported from the plane to the terminal by a low floor bus. The new terminal is still under construction it seems, so we were led into the temporary terminal beside it that was rather small. After passing through immigration and getting our baggage from the conveyor belt, we had to pass through security. Security here at Pyongyang airport is very strict especially when getting into the country. They opened our bags and checked our electronic devices carefully, They looked and examined each and every one carefully. Since it was my first time there, I was a little bit nervous. But after a while, the guards smiled to me and allowed me to proceed and I was greeted by my KITC guide. Everything was simple and there were no worries. Time for tour!
From Pyongyang to Samjiyon
On our 10th day in the DPRK, we had the chance to visit the sacred mountain of Mount Paektu. As a volcano freak, I was so eager to go here and has been pestering Fann about it since a long time ago. The volcano shares its borders with China. In order to get there, we had to travel to Samjiyon County. There's a small and cute airport located there. So we took the smaller jet, Ilyushin Il-18. Although it's old and doesn't look like your conventional commercial jet, I also found out that Air Koryo's Il-18 has been kept quite nicely and well maintained compared to many photos of other Il-18 I saw on the internet. It's one of the world's most durable and popular aircrafts from the Soviet-era. A pretty reliable aircraft indeed. According to some sources, this jet was added to the fleet back in the 1960s. Job well done, Air Koryo!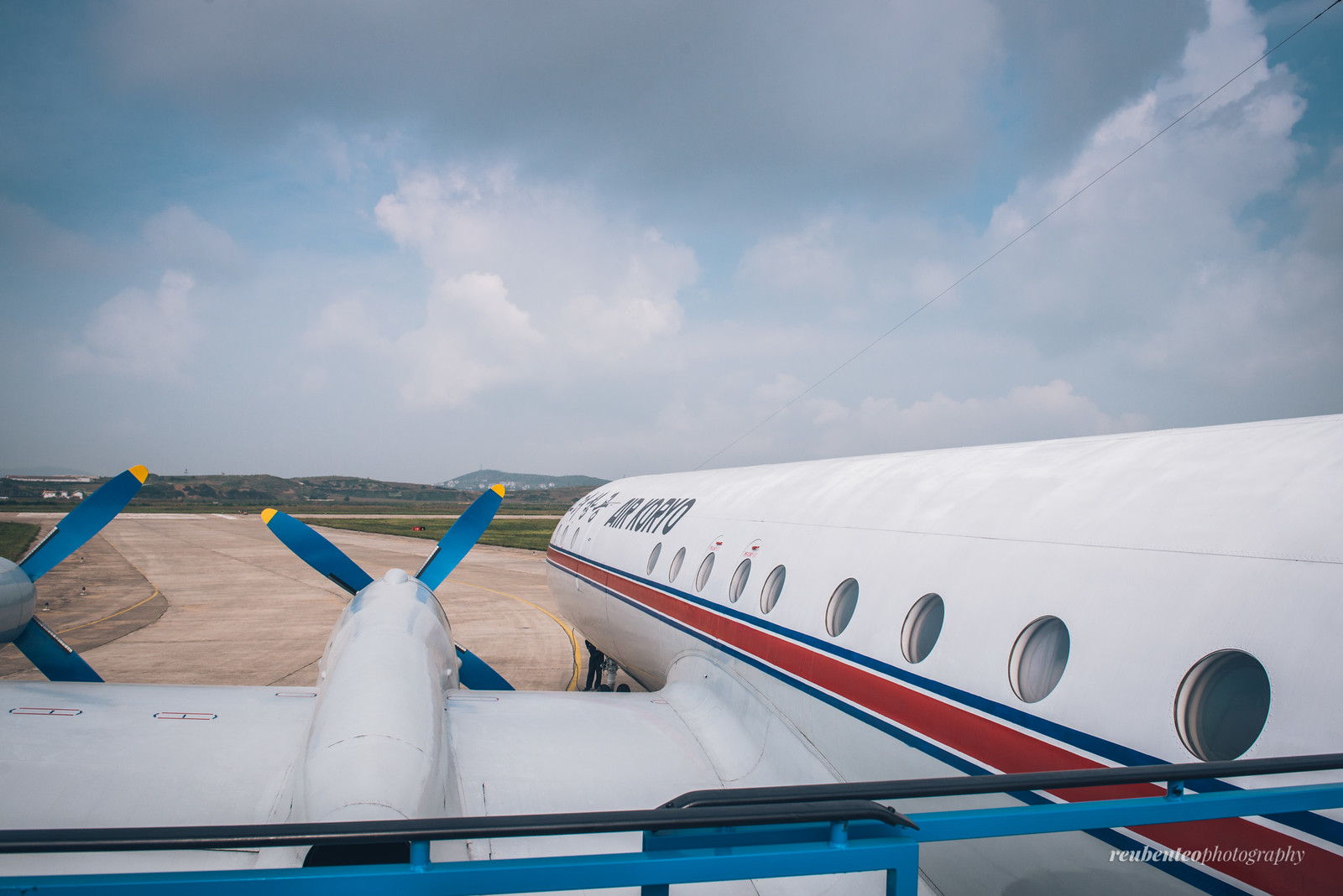 The flight to Samjiyon took about an hour. The ride wasn't all that bumpy. After take off, you could feel that the plane constantly climbing and climbing as if it was going really high. But when I looked out the window, it wasn't that high. Odd it seems. But once the plane got steady, everyone from the Aviation Tour were rushing in and out for photo opportunities. It's the first time in my life I've experience so many people in an aircraft moving about and snapping away as if it's was a museum relic. I wasn't really affected by it, but it's just quite interesting to see such a sight. I'm sorry if I have accidentally photobombed your photos on the plane. I was trying my best to be seated. The air stewardesses were having a hard to manoeuvring inside the aircraft as they tried to serve us our beverages. But they were patient and professional. They did a job well done and so did the pilot too. One guy who sat beside me was nice enough to offer me his window seat. That's where I saw a glimpse of how low the jet was flying and how awesome the landscape across North Korea was.
Here are some other shots I took while we were traveling inside the terminal low floor bus.