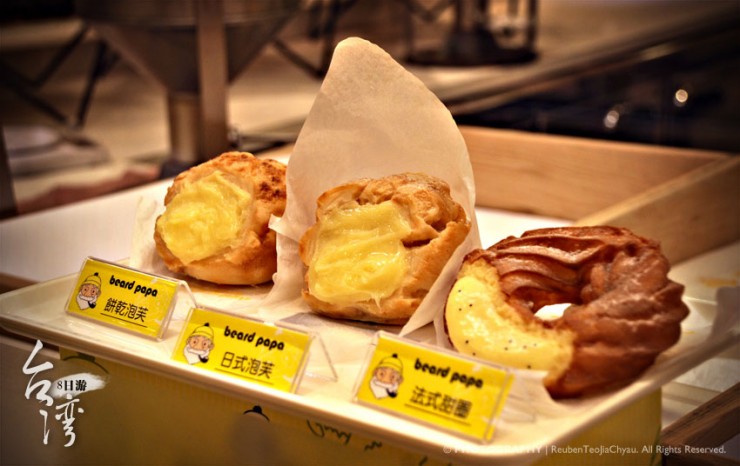 Location: Sogo, Taipei
Time: 9:00am
Date: 28 December 2009
It's the 3rd day and it was terribly cold after the rain the previous day. Today, me and Fann had to have our own breakfast. So, while walking to the subway station, we came across Sogo. There, we saw Beard Papa cream puffs. We were so excited to see this. Unlike the ones in Japan, they had 3 types of puffs to choose from. As usual, we got it all. They were so delicious. Yummy breakfast! After that, we met Bowie and Terynn at the station as we then traveled to the zoo.
Location: Taipei Zoo, Taipei
Time: 10:20am
Date: 28 December 2009
We were greeted by a gust of chilly wind when we arrived at the zoo. It was still drizzling slightly as well. Well, the Taipei Zoo is heck of a place. The place is well maintained and is very huge. Even during winter, you can still see how colourful the place is.
Since it was a Monday, there was a bonus item here. The entrance fee to the Panda Emporium was FREE!! Yes, and only on Mondays. Ooo.. It's the best place ever. Panda Kingdom. There are two giant pandas here named Tuan Tuan & Yuan Yuan.
Although there were only 2 real live giant pandas here, it still felt like there were millions of them, all around!
Yuan Yuan looking for food in the barrel
They even have panda related food. Shaped like a panda too. Hehe.. Okay, so it's a little late to deny that I'm a panda lover.
Location: Sogo, Taipei
Time: 2:25pm
Date: 28 December 2009
Back to Sogo once more, we marched our way to the most anticipated place. Ye Yan (野宴), the most delicious japanese steamboat I've ever eaten in my life. It's all you can eat for a price of TWD369 (about RM37), that's the lunch price of course.
The place served pork slices, beef, chicken, scallop, mochi, cheese stick, fish, sotong, ice cream, Sha Cha sauce, and more more more…………………
You could also cook some stuff at the side with their claypot. It's total non stop steaming, grilling, drinking and eating. NON STOP… Last but not least, there was also unlimited access to COCA-COLA!!!!!!
After a hard day's work eat, we had to walk with our filled tummies back to the hotel to rest. Here's a shot of what me and Fann bought for the past 3 days…. Ta-da: